Posted by iSteve on Thursday, March 8, 2012
I'm reminded of the opening words to Douglas Adams' Hitchhikers Guide to the Galaxy: "Don't Panic!" That's exactly what I have been doing the last couple of days - panicking. While I was waiting for my banjo to arrive, I bought quite a number of books on playing the banjo. Now I'm faced with how to get started. Which method should I follow? The Scruggs style? Folk/Seeger? Old Time/Clawhammer? Celtic? By ear? I've got books and DVDs on all these. I'm immoblized by the number of choices I have before me.
Then there's the whole issue of tablature, which remained a mystery to me until my musician daughter, Cora, tried to explain it to me yesterday. She is a graduate of Shenandoah University in music education and performance. She helped immensely, but somehow, I don't think I still quite get it.
And I'm overwhelmed by all these new terms to learn: hammering on, pulling off, pushing off, sliding, double thumbing, whamming, frailing, on and on.
I'm doing okay on the rolls. Rolls I get. But the chords are difficult. My fingers feel too thick. It's difficult to only hold down one string. I inevitably touch another one.
These are the anxieties of a new beginner. I know that I'm not suppose to know all these things yet. But I feel as though I ought to.
Finally, today I conceded my nerves, picked up the phone and finally called the local music shop. Next Wednesday, I will meet with my new banjo teacher. That should help.
Well, that's where I'm at today.
Cheers,
Steve
---
12 comments on "Freaking Out!"

banjotef Says:
Thursday, March 8, 2012 @4:29:23 PM
Tab is great. It's just a road map of the fretboard. Once you get it, (and you will), it really simplifies things. Have fun, most of all.

RB4picker Says:
Thursday, March 8, 2012 @5:24:11 PM
IMO the instructor is the best move you've made so far. I'm about 7 months in and every lesson I understand a little more about previous lessons. Stuff I'd pass right over on my own, he points out to me. Shortens the learning curve and the frustration.

Bird Says:
Thursday, March 8, 2012 @5:37:27 PM
God grant me the serenity to accept the fact that I'm a beginning banjo player, the courage to learn, and the wisdom to get a teacher.

Oldballz Says:
Thursday, March 8, 2012 @6:15:49 PM
Lmao! God has granted me serenity as well.


TimDreamer Says:
Thursday, March 8, 2012 @6:42:03 PM
I understand the frustration at times, glad I started out with one of the best teachers around. Tomorrow is my second lesson!!

Torben Pedersen Says:
Thursday, March 8, 2012 @11:56:52 PM
Hi Stephen...
Just "slow down"...I`m sure you will learn to play the banjo. Fine you have contacted a teacher. I agree with Banjotef. To play banjo must most of all....HAVING FUN... When I have learned something new on the banjo, i found out: It`s just a corner. There is always new things to learn.
PS: After 8 dayes practising, I`m now beginning to play Sailors Hornpipe, in a nice tempo. Shure I give me an extra cup of coffe, and a peace of chocolate, when the song go`s as I want it.
Have a nice picking, and the best to you...and all other banjo pickers.
Torben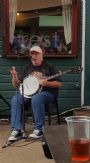 joemac Says:
Friday, March 9, 2012 @12:56:02 AM
your running too fast and not being rational about it. i read your pre-banjo blogs and i felt that you didnt seem to think there would be any probs, well here we go and there are some. it will take you a long while to get moving freely and your new teacher will help but the pace will remain the same, just enjoy being where you are with it right now, 30yrs of playing have taught me one thing, there is no rushing it ......simple

NickC Says:
Friday, March 9, 2012 @1:27:36 AM
Great move getting a teacher Steve. Learning something new is always bewildering at first but little by little the veil slowly lifts. Slowing down and enjoying each step of the learning process is the key. The fiddle player Darol Anger has a great angle on this, he says that you should take delight in learning to do small things very well. You don't have to learn everything at once. You have to be in it it for the long run. Think years not weeks. This is especially importantto those of us mad enough to be learning 2 instruments!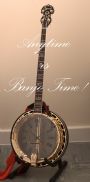 ragitty Says:
Friday, March 9, 2012 @2:54:24 AM
I feel you have far to many options with regard to what type of music you want to play, the problem you will have is that you start with one book and before you get through it properly you open another in a different style...

Decide before you start what type of music you want to play then lock all the other books away until such time that you are competent in a particular style, even with one style of play you will get frustrated at times because you feel that nothing is going right.

Take it easy, it is not a race, Joemac summed it up perfectly and he is an exceptional player and teacher.



Banjoukegirl Says:
Thursday, March 15, 2012 @3:51:21 PM
I'm having fun as a beginner (about 4 months now) clawhammer banjo player. There is a wealth of information out there, and I wonder, too, which is the "right" direction to go. I've played other instruments before and recognize a lot of old time fiddle tunes, so it helps to know WHAT you want to play. As folks who know say, Listening to others is a big help. I've had to back off on trying to figure out too many tunes I'm familiar with to get back to the basics in playing "Flop Eared Mule " a million times, for instance. I have a lot more respect for the "beginner" banjo tunes in instruction books, and hope to keep a "slow throttle" on my desire to go fast. Best of luck. I hear your excitement about the banjo, and suspect you will have a wonderful time with it.
iSteve Says:
Thursday, March 15, 2012 @4:13:20 PM
Ginny,

I know exactly what you mean about going with the familiar. I need to stick to the basics for a while and then branch out. That said, I am drawn more to folk music of the 1950-70s than I am to bluegrass - though I do love bluegrass. And I love Celtic music. I'm already dreaming of a day when I can purchase a 17 or 19 fret tenor banjo to add to my musical instruments. But that is a subject for another day.

Banjoukegirl Says:
Thursday, March 15, 2012 @5:53:57 PM
I was part of a fiddle group in Seattle that is getting a tune list together for a senior center gig on St. Patrick's Day (just about all Irish or celtic fiddle tunes), and I'm missing the gathering. I think I can almost play "Off to California" and maybe will work on "Round the Horn." I'm working on Petronella and West Fork Girls, which are not very complicated...it's about where I am at now to get the basic (meaning both hands and brain working at the same time, together...) oh, my !
You must sign into your myHangout account before you can post comments.