Posted by iSteve on Monday, March 5, 2012
I am in need of help learning how to read tablature. I just don't get it yet. Would someone be willing to Skype with me and help explain to me how tabs work?
Right now, I am working on rolls - forward, reverse, square, reverse, alternate thumb, and the Foggy Mountain Breakdown roll.
I'm keeping a notebook on what I'm learning and prompts for practice.
Steve
---
3 comments on "Anyone Wanna Skype? Because I Need Help!"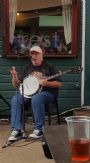 joemac Says:
Tuesday, March 6, 2012 @1:54:50 AM
Well Stephen, i am on skype, my user name is banjobasher. I live in the UK and at this moment in time i have no web cam, but i reckon after 25 plus years of teaching this stuff i may be able to talk you through your prob. If you wish to make contact just send your details mate and we can make a start.............Joe
iSteve Says:
Tuesday, March 6, 2012 @7:08:07 PM
Hey Joe,

Thanks for the offer. Last night my oldest daughter came home from Alexandria to visit. She majored in music education and performance at Shenandoah University in Winchester, Virginia. She was very familiar with tablature and offered to explain it to me. She was immensely helpful. With her help, I'm pretty sure that I've got it - at least enough to get started with.

Steve

Jane C Says:
Thursday, March 8, 2012 @3:22:24 PM
Hi Steve. Even if you've ironed out your tab problem it's still worth a skype with Joe.
You must sign into your myHangout account before you can post comments.