Posted by iSteve on Thursday, March 1, 2012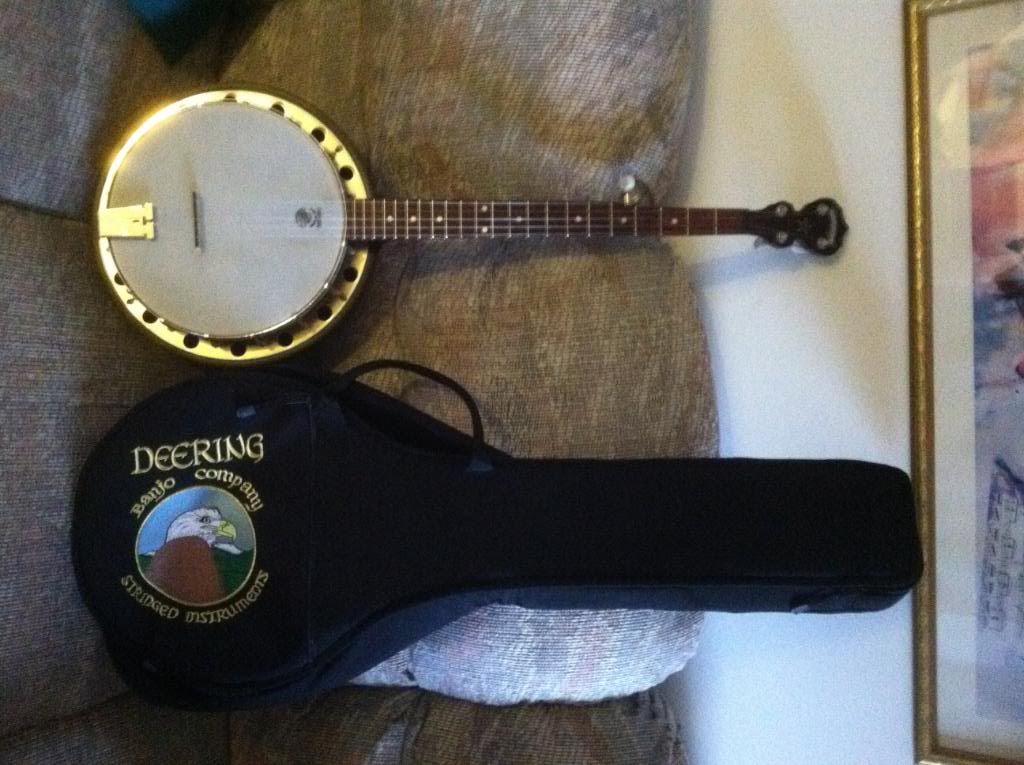 My new (actually used, but in excellent condition) Deering Classic Goodtime Special banjo arrives tomorrow (Friday). I am so excited that I can't sleep.
It's being shipped by UPS, so I have to wait in suspence all day until it arrives and I sign for it.
To be honest, I am excited, but I'm also a little scared. What if my fingers won't' work? What if I can't set up the bridge right? Or tighten the strings too tight? What if I can't get it to sound like a banjo should sound like? Even with a tuner, what if I can get it into tune?
Worst still, what if I have absolutely no talent for this beautiful instrument? I have banjo books gallore. I have DVDs. I have CDs and podcasts. But those things do not bestow upon you the talent of being able to make music.
Now you know my anxieties and worries. I was so much more confident about this banjo playing a week ago when it was all still theorectical. I was brimming with self-confidence then. But tomorrow, I'm actually going to be a banjo owner. Who am I kidding? I'm almost 52 - a little late in life to be taking up a brand new instrument.
But who knows? Maybe it will all work itself out. Maybe, if I'm both patient and persistent, I will be able to set it up correctly. Maybe I will even be able to get it in tune. Maybe by this time next evening, I'll even be strumming a chord or two.
As Scarlet put it, "I can't think about that right now. If I do, I'll go crazy. I'll think about that tomorrow." After all, "tomorrow is another day."
---
8 comments on "My New Banjo Arrives Tomorrow!"

TimDreamer Says:
Thursday, March 1, 2012 @9:26:09 PM
You'll be fine. I picked up the banjo back in December of last year when a friend let me borrow one of his and then two weeks ago I got one of my own. I love it and am always thinking about it when I'm not trying to learn how to play a tune or practicing. Good luck and welcome to banjoing (is that even a word?)


Vapor Says:
Thursday, March 1, 2012 @10:56:55 PM
I took it up two years ago at 54, it has been a lot of hard work, but I am so happy I stuck it out. I love this thing. It has a great return for the investment of time to learn.

I am ure you will be very happy.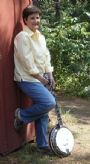 Banjosnob Says:
Friday, March 2, 2012 @2:36:04 AM
I'll bet that over half of the members here on BHO are over 50.
Dilligence, hard work (practice) and committment are what will get you through the first year. That is the hump. You will be well on your way in your banjo journey after that.
Keep the banjo out on a stand so you see it....then pick it up at every chance. Listen to all the bluegrass/clawhammer you can. (hope your wife likes it) That is ear training too.
Good luck!
Lynn K.



frailin Says:
Friday, March 2, 2012 @5:14:05 AM
I'm another "late bloomer." The fact that we've lived this long AND come up with the time/opportunity to indulge in a musical hobby?! How BLESSED we are!! Seize the moment!! :)

jseppala Says:
Friday, March 2, 2012 @6:11:02 AM
Just look that banjo in the eye and say "You & I are gonna be great friends"... I started skiing at 50 and started the banjo at 65. I can't say that I've really mastered either, but I have a helluva good time at both. I agree - seize the moment indeed.

banjogal12 Says:
Friday, March 2, 2012 @6:59:11 AM
Being an "Older Kid" makes life more fun. This is the most fun I have had in a long, long time. Go for it and don't look back...enjoy yourself and keep pickin. Pat
iSteve Says:
Friday, March 2, 2012 @7:05:51 AM
You all are awesome! Thanks for the encouragement - carpe diem - "Seize the Day!"

BanjoBelle Says:
Friday, March 2, 2012 @9:02:58 AM
It's the joy it brings to you that counts- I took up fiddle at 47 (I think) irish tenor banjo at 48.I believe too much fuss is made about taking up an instrument when you're 5 or forget it. I never would've gotten into banjo 15 years ago because I was into other things. Don't think about will you be as good as as good as " " (fill in the blank) Just go on the adventure and have fun.
You must sign into your myHangout account before you can post comments.