Posted by iSteve on Monday, February 27, 2012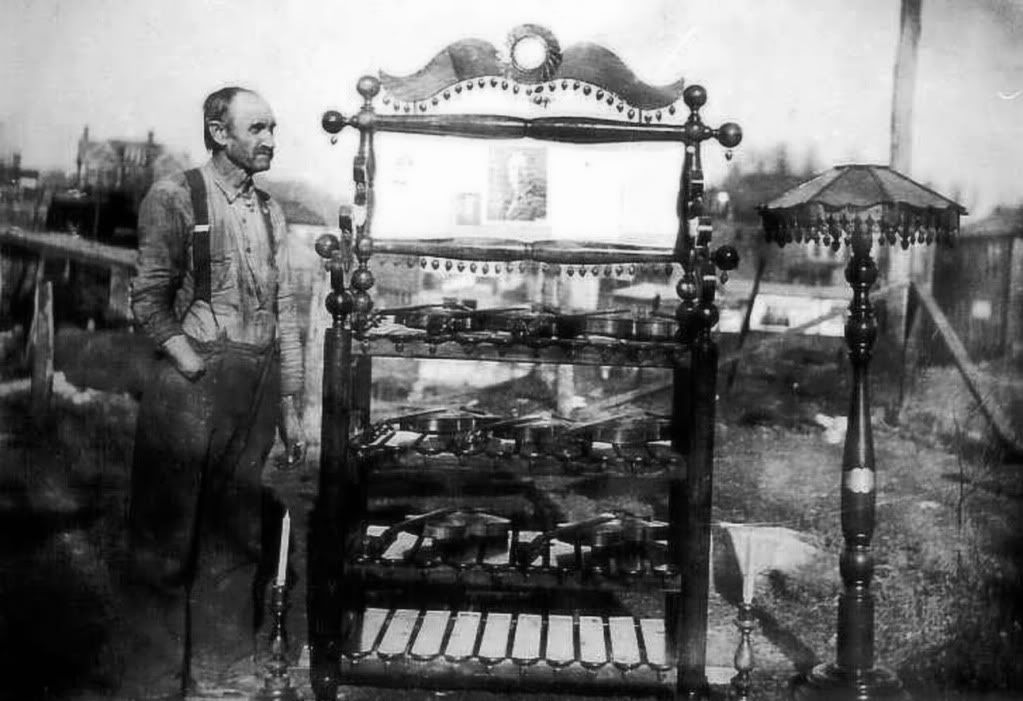 I also wanted to share another picture of my grandfather, John Hale, from Wise, Virginia. This photo was taken just a few years before the other one in my previous blog post. You can see the fine craftsmanship on display in the cupboard, lamp, and candle sticks. Notice the fiddles/violins on the cupboard. Also notice the display on the top of the cupboard. It contains signed pictures and letters from famous people whom my grandfather admired. He really looked up to Thomas Edison because my grandfather saw himself as a kind of self-made inventor, which he was. He liked Edison so much that he sent him one of his fiddles. That fiddle is still in the Edison Museum. He also loved William Jennings Bryan, voting for him three times for President. He sent him a piece of handcrafted furniture. He liked Woodrow Wilson and also sent him a piece of furniture, which remained in the White House for many years. In return, these prominent men of the day would sent him personal letters and photographs to show their gratitude. My grandfather displayed them so that friends and family could admire them.
As you can tell, even though I never met him (he died in 1943), I really looked up to my grandfather. He is a kind folk hero in our family. He was even appointed as a special policeman for Wise County and assisted in the capture of a notorious murderer, "Red Fox" Taylor. His role was later dramatized in the bestselling book, "Trail of the Lonesome Pine" by John Fox, Jr.
Thanks for letting me share a little bit of his life and talents with you.
---
5 comments on "My Grandfather Was A Luthier: Part Two"

banjotef Says:
Tuesday, February 28, 2012 @2:40:43 AM
That is wonderful, that you have these pictures. That is a great treasure!
iSteve Says:
Tuesday, February 28, 2012 @6:26:19 AM
Tom, thanks for your comments. These pictures really are a treasure. They are a source of great encouragement as I begin this new journey with the banjo.

banjotef Says:
Tuesday, February 28, 2012 @6:28:02 AM
I have many photos and souveniers of my father's. Check out the photos on my homepage.

banjodawg Says:
Tuesday, February 28, 2012 @7:14:02 AM
That's a fascinating picture and story! Isn't it nice to feel connected to family members we've never met except through pictures, letters, heirlooms and stories? We just repaired and antique rocker that once belonged to my wife's great, greg grandfather. Before we surprise her brother with it for his birthday, I am going to sit in it an pick a while!
iSteve Says:
Tuesday, February 28, 2012 @9:43:54 AM
Bill, is it wonderful to feel that family connection through the generations. Good work on the rocker. I think you ought to sit in it and pick a while. Give it some good vibrations to go along with the restoration.
You must sign into your myHangout account before you can post comments.