Posted by JRice43315 on Saturday, February 4, 2012
I just recently ordered a new Five Star head from StewMac, and a Hatfield compensated bridge from Banjo.com. I have heard and read many good things about the Hatfield bridges and am sure I won't be disappointed. I am anxiously anticipating the arrival of these items. As this will be my first attempt at changing a banjo head. I will also change the bridge and strings at the same time.
My banjo is a Deering Deluxe and currently has what is probably the original Deering head on it. My reason for replacing the head is twofold; first I just want to make the change and secondly everything I read and pics I look at seem to indicate that the head should be below the top of the tension hoop when properly adjusted. This is not the case with my current setup. The tension hoop on my banjo has to be level with or slightly below the top of the head to obtain the sound I'm looking for. Hopefully this changing heads will solve this issue.
Will post more after this project is complete, Later
Jonathan
---
2 comments on "Upcoming Banjo Project"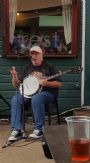 joemac Says:
Saturday, February 4, 2012 @11:20:19 AM
John, just take your time and dont get too bogged down with advice and suggestions, it will cloud your mind. Just feel the head on and read up on it, you will do fine man!!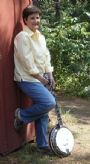 Banjosnob Says:
Sunday, February 5, 2012 @8:20:13 AM
I got my Deering GE old head off and now cinching down a new head. I am, every-once-in-a-while checking the measurement of the head to the tension hoop all around. The hard part will be to tune the head. I will get it and so will you.
You must sign into your myHangout account before you can post comments.