If you're in England, I may well be playing near you this coming May. I'm also teaching an old-time banjo workshop (could include fingerpicking and clawhammer) in Ludlow, which will be followed by a concert there in the evening.
- May 30th, Wednesday. Rivelin Folk Club (
http://www.rivelinfolkclub.org.uk/
), Nether Edge Bowling Club, 8 Nether Edge Rd. Sheffield, South Yorkshire, S7 1RU. 8.30pm.
- May 27th, Sunday. Walthamstow Folk Club (
http://www.walthamstowfolk.co.uk/
), Ye Olde Rose and Crown Theatre Pub, 53 Hoe Street, Walthamstow, London E17 4SA. 7.30pm.
- May 26th, Saturday. A daytime clawhammer banjo workshop followed by an evening of old-time American music. Evening concert: 7.30 pm, £8.00. Workshop: 10.00 am - 4.00 pm, £45.00 includes lunch. Wandering William Centre, Foldgate Farm, Steventon, Ludlow, SY8 4TS. To book, contact: Jim Allen 01568 750546.
www.wanderingwilliam.co.uk
- May 23rd, Wednesday. Baldock and Letchworth Folk Club (
http://www.questor-cp.co.uk/madnanny/index.html
), The Orange Tree, Norton Road, Baldock SG7 5AW, England. 8.30pm
Hope to see you at one of them! (and if you know of someplace else that would like to have me around those dates, let me know!)
Yours,
Hunter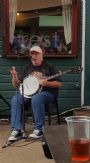 joemac Says:
Thursday, January 26, 2012 @10:53:32 AM
Hi Hunter, i am no claw player but i love your stuff and class you as an insiration, i shall be around at one of the shows mate, Joe mac.