Well, after a mammoth drive down to Hastings on the south coast of the UK, the Rich & Taylor "Sonny Osborne" model which I have been chasing since early 2011 is finally in my possession.
I first played and heard this banjo at the Orwell Bluegrass Festival and although the banjo had some fairly serious set-up issues I could tell that I had a very special and potentially great sounding banjo in my hands. The banjo sounded congested, like it had the flu. I knew there was a great sound inside, but it just wasn't coming out.
I got the banjo home and started adjusting the banjo's set-up to my preferences; I changed the strings and replaced the Grover bridge with a Snuffy Smith I had hanging around and BANG!!!!! There was the great tone and sparkle I knew the banjo had all along. I think at some point I'll switch the head for my preferred REMO and change the tuners for a set of the fantastic Waverly V2's that I have on my Huber. I'm still tinkering, fine tuning the tail piece height and head tension but essentially the banjo is just how I like it and I'm really pleased.
It's great to look at too, a gorgeous marbling in the rosewood of the fingerboard. A lustrous tiger stripe finish on the neck and the simply stunning, highly polished, sunburst resonator.
It's only fair to say that my Huber is still my main banjo, but now it has a serious rival for my playing time…….. Thinking about it, I have a gig on Wednesday………who will I be taking along Huber or R&T? Hmmmmmmm???????
Photos of the R&T can be found in my album here on the Hangout and Sound Clips will be added very soon.
Happy new year to all.
---
6 comments on "New Rich & Taylor "Sonny Osborne" Model."

JP_Lamoureux Says:
Sunday, January 1, 2012 @10:22:40 AM
Wow that's a bit special buddy well looks like your battle for Hastings was worth while it's a thing of beauty I'd love to hear u play it some time :) happy new year and all tye banjo best jp ...

Guy Says:
Monday, January 2, 2012 @1:42:58 PM
Nice One Chris!
Nothing like a new instrument to get those creative juices flowing.
Real pleased for you.
Happy New Year
Guy

buckbybanjoboy Says:
Tuesday, January 3, 2012 @1:17:08 AM
Hi Chris, that R & T looks a serious bit of kit. Congrats on your new instrument.........................what's next?
Regards Peter V.

AnsacsteveOLD Says:
Wednesday, January 4, 2012 @11:41:27 AM
I remember that day at orwell, just proves that "everything comes to he who waits"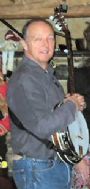 john leary Says:
Monday, May 28, 2012 @7:38:41 AM
Hi Chris. I saw your band play at Oarwell (or your dad's band) and your banjo playing sounded really great. Was you playing the R & T or another? Either way i reckon you're on your way to being one of Britain's top banjo players.

Chris Cooper Says:
Monday, July 23, 2012 @2:34:54 PM
Hi John,

No the banjo I was playing at Orwell was the Huber. Since then I got to play some Prucha banjos and nothing else compares to the power and tone that you get from those instruments!
You must sign into your myHangout account before you can post comments.