Posted by raharris on Sunday, December 25, 2011
Well, Santa doesn't visit my home -- i must be on the naughty list! But I'm not without my Means. This year I came upon an old -- 1920s? -- c-style Bacon tenor that sounds great. Woody, perhaps. St. Wallet met up with Patrick Huff to design an internal resonator cello banjo he calls a Tenor Cello because I wanted four strings. The instrument is, if nothing else, a work of art. But it =is= something else: a great instrument. Great tone. I wish I could do it justice. One day I'll die and the instrument will pass into the hands, of another; maybe s/he will be worthy of an instrument of this caliber.
Finding strings for the cello has been a hoot. The regular GHS metal strings created an unwanted aftertone, so off the nylon world. Nylon world, it turns out, is big. Aquila makes a variety of fine banjo and guitar strings, none of which created the sound I wanted. Ditto Thomastik-Infeld. I found myself using the 6th-3rd strings of classical guitar sets, but the 3rd (G in standard guitar tuning) always sounded like mud. That's when I discovered strings described variously as "wound third" or "wound G" in sets by Labella (850w), etc.. Now I'm happy. The answer is wound nylon guitar strings 50-2-some gauges. Now that I know what I want I'll hunt down individual strings.
What else did St. Wallet bring me? Lots of strings, for one. Various new picks to try, including the Dawg II mandolin picks I now use on the cello banjo and tenor guitar but, oddly, not on the mandolin. A variety of Wegens still have my loyalty not only on the mandolin but as a pick of first choice across the board. No other accessories, I can think of.
Healthwise my arthritis is tightening up. Moved to Humira once a week, but the pain meds are just where they were. Right arm from shoulder to finger tips, lower back, and ankles/feet have it the worse. Thank St. Rheumatologist it's not worse, and that my left hand involvement is not worse than it is. Last years (year before this year) shoulder replacement did not go as well as, say, the hip replacements. Damn shoulder.
Went to mando camp. One teacher, because it was really banjo camp, and he was a fiddler. We didn't get on right from the beginning and I left. That's my last music camp. I know people like those things, but I guess I'm not one of those people. Mando lessons with Aron but health problems kept me from attending with regularity and the rhythm of learning didn't develop. I'm convinced that Aron is a good teacher and will recommend him to anyone who asks, but I'm taking a break until I can concentrate, if ever a time of that sort materializes.
In the real world the Molly lost both her parents this year. Neal in the spring, Betty six months almost to the day later. B was just over 80, Neal just under. His illness lingering, hers a repaid onset and demise. Molly was closer to her father but felt her mother's death more I think because in a way she felt that her father lived on in her mother. She's doing well. Off to visit her siblings just about now. With one exception all my parents/grandparents have already made their way into the ground.
'Tis a short trip to the grave, come to think of it, and can happen to any one of us at any time. Not a sad thought that, but a reminder to live in the moment, taking each as it comes, making the most of what we have in the here and now, not worrying the past, fretting the future. I know I am breathing in, I know I am breathing out.
On to next year --
---
1 comment on "Year end round up"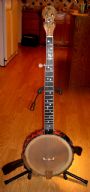 ltjgcag Says:
Sunday, December 25, 2011 @4:36:14 PM
Here's to a better 2012 Robert! I've always said "Enjoy life. This NOT a dress rehearsal!"
You must sign into your myHangout account before you can post comments.