Merry Christmas to one and all. I'm new to the website, but I've got a big heart. Love the Jukebox, especially the Classical, oh and of course the Bluegrass. The reviews were very helpful in letting me know that the choice for my first banjo was a good one. A shout out to my buddy Bill Roop (wroop on here) for letting me borrow his Peerless until I get one of my own. I'm having a blast learning how to pick and fret at the same time. In the meantime, everyone have a great weekend and stay safe if you're going to go out to parties. God bless.
---
6 comments on "Merry Christmas, everyone."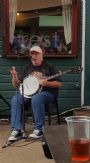 joemac Says:
Friday, December 23, 2011 @8:48:30 AM
Tim, have a wonderful time, Joe

69in2011 Says:
Friday, December 23, 2011 @9:51:18 AM
Tim welcome to the hangout, Merry Christmas. Rich

peghead59 Says:
Friday, December 23, 2011 @11:40:57 AM
Merry Christmas Tim.

TimDreamer Says:
Friday, December 23, 2011 @1:00:25 PM
Thank ya'll for the welcome.

wroop Says:
Friday, December 30, 2011 @6:47:01 PM
Good to see ya here Tim.

TimDreamer Says:
Saturday, December 31, 2011 @2:09:20 AM
Thanks Bill, I wouldn't be here without your kind assistance in loaning out your starter banjo. You're a great friend.
You must sign into your myHangout account before you can post comments.