Posted by Bufo Bill on Thursday, December 15, 2011
Last time I told you about how I discovered the banjo music I play, this time I am going to tell you about my Banjos.
My first banjo was a Chinese import of basic design but a decent level of quality. I had never picked one up before and was surprised at the slim neck. It was heavier than I had thought as well.
I had played the guitar as a teenager, but had never really got the sound I wanted from either an acoustic or a Fender Stratocaster, but the first time I bent a banjo string during playing "Will the Circle Be Unbroken", that was it, I was in heaven!
I kept on with this banjo for the first year of playing, but decided to upgrade from my Chinese "Tonewood" banjo to the maker whose name they were imitating, Tanglewood, a workshop here in the UK. I was just curious to see what difference a couple of hundred pounds could make, really, and when I saw the banjo's at Eagle Music's Website, I found the perfect banjo for me. Being a UK-made banjo, it was much less expensive than one imported from abroad, so I got a great quality bluegrass banjo for not too much more cash than my first.
The Tonewood has a very different feel from that Chinese banjo. It is so heavy that I daren't leave it on a stand for long periods! The back breaking weight was caused by a heavy Brass Tone Ring, and the solid maple rim, which is three-quarters of an inch thick. It has beautiful Mother of Pearl inlay on the neck, abalone flower inlay in the headstock and a beautiful "T" (for Tanglewood) in the heel. I was still a bluegrass lad at this time and loved the banjo dearly. It was like Christmas morning when it arrived, packed in a huge trunk-like cardboard box! I still play the few bluegrass licks that I know on this banjo, there is still something special there, and one day I think I will go back to the bluegrass Tabs, and give it another go.
Some months later I came across the term "Clawhammer" . . . oh dear, another banjo was on the way . . . Hope to see you next time for some Long-Necked Deering talk!
---
3 comments on "My Banjo Life No.2"

rongratton Says:
Tuesday, January 17, 2012 @10:52:58 AM
If the Tanglewood Banjo is as good quality as the Tanglewood guitars it has to sound amazing!!!!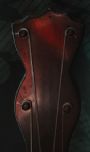 Bufo Bill Says:
Tuesday, January 17, 2012 @11:05:16 AM
It is beautiful, way better quality than the prices in the dealers windows would suggest. Well worth the investment. Thanks for reading the blog.

rongratton Says:
Tuesday, January 17, 2012 @1:08:41 PM
I love Tanglewood guitars
You must sign into your myHangout account before you can post comments.