I have a chance to buy the property that joins mine and need to get some money together. I am considering selling my 1926 TB-3 Conversion Ball Bearing Banjo. It is a great banjo, and one that I said I would never sell, but it may be needed to obtain something I have wanted for a long time.
If you or someone that you know is looking for a great Pre-War Banjo, have them give me a contact. Someone is going to get a great banjo if I do sell it.
Again, it is a tough decision.
---
5 comments on "Tough Decision, But One That May Be Needed"

catching2nd Says:
Monday, November 28, 2011 @8:58:18 PM
Donnie, I am sending you a PM right now.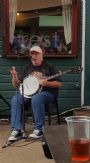 joemac Says:
Tuesday, November 29, 2011 @2:59:09 AM
Donnie, i know it aint my bussiness mate, but i reckon its the right move you are making, good luck mate to you and your family.........Joe

RatLer Says:
Tuesday, November 29, 2011 @4:20:04 AM
Good luck Donnie....

John Kuhn Says:
Thursday, December 1, 2011 @7:33:45 PM
Well...As long as your keepin the Hatfield we'll let ya do this..LOL..Yeah Donnie, times are gonna get tough, you need that land. One banjo is all Ive ever had. You'll get used to it.Your makin a wise choice!

christy65 Says:
Friday, December 2, 2011 @8:33:32 AM
best of luck donnie
You must sign into your myHangout account before you can post comments.