Posted by Banjov1 on Friday, November 25, 2011
Day after Thanksgiving and instead of waiting in lines at Target, my friend and I headed up to Glen Rock Pa with 4 banjos and got Mike Munford to work on them... Good Times!!!
It's always a treat getting Mike to work on your banjos. As he's working on each one he's happy to give you some history about the instrument and all sorts of options about what it will take to get optimal tone out of it.
We went through all 4 banjos today, but had to leave two overnight for some extended work. My favorite part of the afternoon was restoring an old Aria Pro II banjo that we're getting for a friend. It was an old 70s/80s Japanese model that we picked up on CraigsList for $325 with a full tone ring and hearts and flowers inlay. Overall the hardware and finish was in really nice shape, but Mike had to do the following with it to get it to sound as nice as it looked...
1) Replaced a broken clamshell tail piece with a Presto
2) Replaced the Grover bridge with a Snuffy Smith
3) Put in 3 rr spikes
4) Replaced an ebony pip with a bone pip
5) Tweaked the head tension a bit
6) Tapped a few frets down
I'll post some video clips after we give it to our friend at Xmas. It really sounds unbelievable for a sub $500 banjo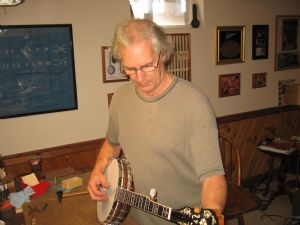 ---
Be the first to comment on "Black Friday with Mike Munford"
You must sign into your myHangout account before you can post comments.