Posted by phill on Friday, October 28, 2011
Well a lot has happened since I last wrote on banjo hangout. Had a fantastic time over in Ireland with my band. We decided we wanted to change our name from Wet Paint to ................ well we settled for BroadOak Bluegrass Band. It was decided because we have had a lot of changes over the years but now have the ultimate line up drums - keyboard - sax - string section, oh sorry wrong band!!
But I forgot before all that Wet Paint entered a talent contest at a local caravan park and we won, see facebook for details. Well next week 2nd Nov we enter the UK finals if we win that .......................... wh0 knows what!
My nephew (who some will know) has bought a new banjo made by Janis a wonderful banjo, he has let me on it a few times, it'll be a cracking banjo in time. He fitted a Kat Eyz bridge on it and that was awesome too.
So BroadOak Bluegrass Band are playing next year at Johnny Keenan's Banjo festival plus some other dates, it's just great out there, only downfall is, time flies by too quick.
I've been playing my old Martin D28 in the band and sometimes I get to play banjo! :)
But I play loads of banjo at home and a few clubs, old people's home (I supply the ear plugs)!!
Yep things have been happening a banjo pickin' makes the world go around!!
Phill
---
2 comments on "A Lot of new things have happened..................................."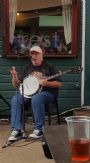 joemac Says:
Saturday, October 29, 2011 @10:23:37 AM
Well done Phill, continued success from the Old Grey Dogs mate.

phill Says:
Saturday, October 29, 2011 @11:16:41 AM
cheers mate if we win we get a weeks free hoilday + 2000 :) nearly enough for another banjo but what about the rest of the band ha ha :D
You must sign into your myHangout account before you can post comments.