Posted by Kevin G on Monday, October 24, 2011
I was up in Chicago last week for a business meeting, and my original flight home to Charlotte was canceled. I had to rebook on an earlier flight that put me in a little bit of a hurry.
Of course, I'm too cheap to pay for the "fuel service option", because I rarely use a full tank of gas when traveling, but I also hate the humiliating walk around the car when you return it and the accusation that maybe you drove just a little too far after filling up on your way back. So I always make it a habit to fill the car up nice and full before I return it, topping off until the nozzle shuts off the second time.
Well: Last week it didn't shut off the second time, and gas came spraying out of the tank. I shut it off pretty quickly, but enough had sprayed out onto the ground and along the side of the car that the interior filled with fumes for the rest of my drive to the airport.
Guess what happens when you walk into the security line at an airport after bathing in gas fumes for 15 minutes... Yep. That.
With the exception of the fully naked body cavity search, I think I got everything they could throw at me, even pulling my used socks out of my packed shoes and lifting them to their noses. They swiped their little bad-stuff-detection pads along every surface, politely felt me up almost everywhere, then finally cleared me to fly home. All in all, based on what I smelled like, they were actually extremely polite and professional. They also counseled me on whether I should let the airline know, although, if I had gone on the plane like that, I think they would have sent me right back to the security guys for another round.
Instead, I went into an airport stall with my luggage, changed clothes (surprisingly difficult when there's a toilet in there and your open luggage and you're trying to take the bad stuff off and put ungassy clothes on), and then went off to the gate. Fortunately, my luggage is sealed pretty well, and nobody suspected a thing. When I smelled my seat neighbor's garlic dinner on his breath on flight number one, I figured I was in the clear.
So. Lesson: Don't top off. Pay the ten bucks if you're a little under. And be honest with the security guys. I fessed up immediately, even though I was embarrassed, and they were pretty understanding. I even felt a little safer knowing that I wasn't about to spontaneously combust.
---
2 comments on "Don't overfill the rental car if you're on your way to the airport"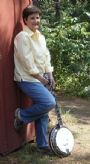 Banjosnob Says:
Tuesday, October 25, 2011 @3:34:25 AM
Hilarious!

Jane C Says:
Wednesday, October 26, 2011 @9:43:53 AM
I'm glad your back Kevin, I know it's not banjo but it's funny, interesting AND well written.
I've done this too and had to drive 100 miles with wet jeans, & didn't feel too good after a while.
It's good to know the security guys were thorough, you'd be worried for the country if they weren't.

You must sign into your myHangout account before you can post comments.