I've owned many banjos over the years, but this is the first time one came back to me after I sold it--mistake corrected!!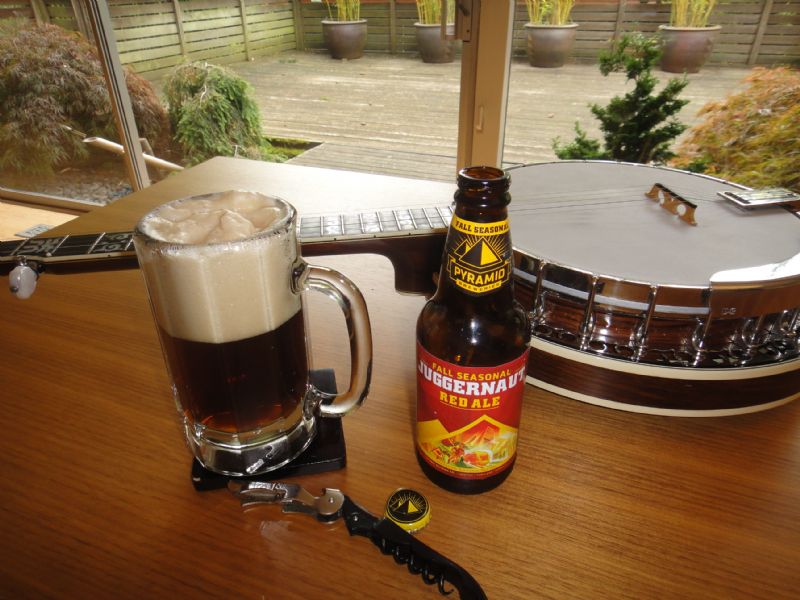 After a visit to the Ome Banjo Company earlier this year, I got re-inspired by Ome banjos, especially their vintage models back when Chuck Ogsbury had Rosewood lumber available. Anyway, with the help of my friend John Miller ("NDJohn") who was one of the many previous owners, I was able to track down the current owner, Dave McCracken and we struck up a WIN-WIN trade for my relica RB4 and I'm very happy how it worked out.
Pictures of this fine instrument are posted here: http://www.banjohangout.org/myhangout/photos.asp?id=4174&albumid=6119
And interesting ownership history is here: http://www.banjohangout.org/topic/218061
---
8 comments on "MY 1975 OME JUGGERNAUT (SN 1012) IS HOME AGAIN!!!"

BrittDLD1 Says:
Friday, October 14, 2011 @4:23:29 PM
What!? No "WELCOME HOME!" sign!?

(Or is the beer for the banjo? ;-)

wrightedward Says:
Monday, October 17, 2011 @8:16:28 PM
For sure one beautiful banjo

EnglishWolf Says:
Thursday, October 27, 2011 @1:05:40 PM
Loving the picture Mate! Looks like I should come over and share a bottle of the goodstuff with you!

DIV Says:
Thursday, October 27, 2011 @1:57:56 PM
Any time, buddy! Seriously!

banjocatman Says:
Monday, January 30, 2012 @3:30:05 PM
Is this still your main 'jo?

DIV Says:
Sunday, October 14, 2012 @8:56:30 PM
It certainly is...time to sell the Deering....

cbskibum Says:
Sunday, October 14, 2012 @9:08:15 PM
Congrats Dan can't wait to "see" it!

Tonecaster Says:
Friday, December 13, 2013 @1:51:13 PM
Looks like a good ale too!

You must sign into your myHangout account before you can post comments.