Posted by schlange on Friday, October 7, 2011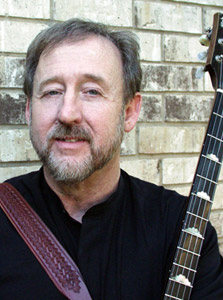 This Sunday (Oct 9) from 2-3:30PST we'll have a workshop with Gerald Jones titled "Unlocking the Secret Powers of the Harmonized Scale ." Cost is $20 to register for this workshop, and it's already filling up nicely!
Here's the workshop description:
The harmonized scale is the secret to improvisation, backup, lead breaks and ear training. Gerald shows you how to play scales in double and triple stop harmony on all the strings to help you master the neck of your banjo. You will learn to intuitively know where the "good" notes are on your fingerboard.
The harmonized scale is the basis for chord construction and is used in music from Bach to Bill Monroe and Van Morrison to Bill Emerson. During the workshop you will learn how to recognize the harmonized scale and how to use it. You will be shown how to construct "Plug and Play" licks that can be used as backup or leads in any key against any chord. These patterns form the basis of many familiar phrases on the banjo and music in general.
Besides exercises and patterns you will learn practical examples to use immediately. Easy to play backup / lead licks plus a double stop version of What a Friend We Have in Jesus will be provided. This will help you get your head up out of tablature and just play!
Register or Get More Info Here >
About Gerald:
Gerald Jones is a favorite instructor at many bluegrass and roots music camps around the nation. He's played on stage or recorded with Jim "Texas Shorty" Chancellor, Vince Gill, Sam Bush, Hank Thompson, Red Steagall, Jethro Burns, Jerry Douglas, Tanya Tucker, Junior Brown and many more. He's also been a two-time finalist in the National Bluegrass Banjo championship in Winfield Kansas.

Gerald has taught music for almost 30 years, and counts among his students Marty and Emily Erwin of the Dixie Chicks. He's the editor of Mel Bay's bimonthly webzine Banjo Sessions, and is a frequent contributor to Joe Carr's Mandolin Sessions. As Joe said of Gerald, "students love him because he jams a lot with them and teaches as much out of class as in!"
To learn more about Gerald, visit thegeraldjones.com
---
1 comment on "Workshop this Sunday with Gerald Jones"

Wills Creek Says:
Monday, October 10, 2011 @7:40:22 AM
Well worth the time and money It opened up alot of different avenues for me and basicly takesd me out of the doldrums that Iv'e been in Good workshop thanks again.

Frank
You must sign into your myHangout account before you can post comments.