Posted by dgill on Sunday, September 25, 2011
My wife and I had a great time at Uncle Pen Days yesterday. There were some great banjo players there on stage and I enjoyed that more than anything the whole day. Larry Gillis showed his skills and can pick a banjo with hard drive and some real get up and go. Ron Stewart was there with the Box Cars and I was as impressed with him as anybody I have heard pick. But most of all my friend Kenny Ingram was there with LSB and that guy is the greatest. I don't think Kenny gets the world wide recognition that he deserves, so I wanted to give him props today. This is the world wide web you know.
Kenny is a great person and just a pleasure to be around. I sure hope some day the world of bluegrass pays him his dues and offers him the recognition he deserves. He is a true banjo champion and one fine fellow in my book.
---
8 comments on "Uncle Pen Days at Beanblossom 9/24/11"

Oalbrets Says:
Sunday, September 25, 2011 @6:17:24 AM
Amen Donnie

jimh269b Says:
Sunday, September 25, 2011 @6:21:46 AM
and i agree donnie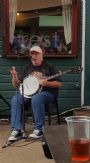 joemac Says:
Sunday, September 25, 2011 @7:30:55 AM
Me too Donnie, also i wish i was with you all mate.

From Greylock to Bean Blossom Says:
Sunday, September 25, 2011 @9:06:07 AM
Donnie,
I didn't see you there. Where did you sit and when were you there?
Ken

dgill Says:
Sunday, September 25, 2011 @9:11:19 AM
I was there on Saturday and sat right square in front of the stage about at the start of the trees. We had a big time. Wish we would have ran into each other. I really enjoy meeting up with hangout members.

Cotton Says:
Sunday, September 25, 2011 @10:20:51 AM
I could not make it this year. Would have liked to meet other Indiana folks!

ERonshausen Says:
Monday, September 26, 2011 @11:31:20 AM
Hey Donnie, can't wait to see you in Louisville...

Horseshoot Says:
Wednesday, October 12, 2011 @7:17:55 AM
Sounds like a great time, Donnie!
You must sign into your myHangout account before you can post comments.