Posted by RatLer on Thursday, September 22, 2011
After reading some posts on here about "Old-Time" compared to "New-time".....I thought I ask ya'll what category you put my style of claw hammer and music in. I know I really don't play old-time and don't really play bluegrass since
I'm not picking Scruggs style, even though I play mostly BG tunes. I do try to keep some of the BG drive in the tunes. I figure I'm somewhere in between OT and BG...but what would you call it? Mountain Music? Hillbilly Music?
Or just "RatLer-tryin'-to-pick-a-banjer-again"...LOL I've been bothered by this for awhile, not really fitting in with Old-time and not really fitting inwith Bluegrass.......
If you care to check a tune or two on my music page, I'd like to hear your thoughts on what style you think I would fit in.......without starting another battle of what's Old-Time what ain't....LOL I know I ain't Old-Time!!!!!
Thanks in advance!!
---
10 comments on "What "Style" do I play........"

jimh269b Says:
Thursday, September 22, 2011 @4:14:07 PM
the style you play greg,a mix of both,but what you love and feel is the main thing buddy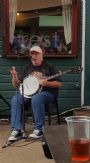 joemac Says:
Friday, September 23, 2011 @4:21:28 AM
I dont care what you call it, i like it, its a good clean style that sounds good to the ear man.......

RatLer Says:
Friday, September 23, 2011 @4:38:04 AM
Thanks Joe and Jim. Maybe when folks ask me I'll just say its Down Home Music or, like Ralph Stanley says, Mountain Music.... Ya'll are right though, as long as I enyoy playin' it and someone out there enjoys listen is all that really matters.....

dgill Says:
Friday, September 23, 2011 @5:55:46 AM
Greg, it is your style and that is what makes it special. We all have something just a bit different about how we play, even though we are trying to play many of the same tunes and are at many different skill levels. You hit it on the head. I enjoy listening to your style Greg.

erikforgod Says:
Friday, September 23, 2011 @7:00:07 AM
Id call it ""Ratler-claw" style....I hear alot of Old-Time in your music and some grass also...I think yer playin what yah like and what feels good....I love it!

erikforgod Says:
Friday, September 23, 2011 @7:04:03 AM
I definately hear alot of eastern Kentucky in your music...thats for sure....I really like the song you wrote for Jim and also your version of "Uncle-Pen" when I heard it it makes me wanna get up an back-step ( I can do it a little...I used to go with my grandparents to square dances ) I can hear the music you play makin me wanna get up and "shake-a-leg"!!

DrBob Says:
Sunday, October 9, 2011 @5:04:03 AM
Regardless of style, which seems to 'morph' with all of us'...I love your new profile pic Greg...worth a thousand words! ;-)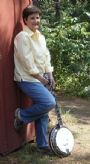 Banjosnob Says:
Monday, October 10, 2011 @12:16:27 PM
What's the red ribbon from on your avitar? Did you win an award?

RatLer Says:
Monday, October 10, 2011 @1:38:18 PM
Hi Lynn....yeah, got second place in banjo contest last year.

dannnjo Says:
Monday, October 10, 2011 @5:59:25 PM
You do a good job singing, i really liked your Down the road,, not BG or CH just a nice individual expressive way of playing that gets the job well done harmoniously,,,
Dan in Delaware
You must sign into your myHangout account before you can post comments.