Posted by Kevin G on Sunday, August 21, 2011
As part of a company relocation, my wife and I are moving to Charlotte in the coming month. We've known about this for 18 months or so, but now it is real. We took our daughter back to college this weekend, and realized that it may be the last time that she sees the Buchanan, Michigan house we've lived in for the last 15 years. Although we're looking forward to the move for many reasons, saying goodbye to a home is harder than I thought. (This presumes, of course, that we will be able to sell the house.)
This is the first house my wife and I bought together. I've played banjo in every room (except the bathrooms, of course, guess I'll have to take care of that before we move), I've repaired ceilings, floors, pipes, garage door openers here; we're on our 4th lawn mower, second water heater, third washer and drier. Our kid learned to pull the car into the garage successfully here, skinned her knees on the driveways, learned the flute and piano in this house and studied her way to high school valedictorian. My wife and I celebrated anniversaries 12 through 27 here. She gave me my first banjo in this house, and banjos 2 and 3 just materialized somehow. I launched the Big Candy Bars at Halloween campaign in this house. It will be sad to leave, and it's hard to believe that another family will own this house who feels as home here as we have felt.
And yet, it's a good time for us to move on to the next adventure. There are sure to be more banjos in Charlotte, or at least more banjo teachers. The city is big enough to have plenty to do, but small enough not to feel overwhelmed. I've been traveling there for 10 years now, and have friends there already. And there will be many new memories to make in the new house, many of which will have nothing to do with snow, we hope.
A few people here on the Hangout have followed this blog pretty regularly, and I apologize for not having kept it more up to date. Once we're moved, and not every spare moment of my time is spent painting or patching, I promise to write more often. And to play more often.
Cheers,
Kevin
---
3 comments on "Moving to Charlotte, NC"

Horseshoot Says:
Sunday, August 21, 2011 @7:38:05 PM
Congrats on the move. Parting is indeed sweet sorrow. I lift my glass to your new adventures!

TopCat Says:
Monday, August 22, 2011 @5:34:28 AM
I haven't been on the BHO that often myself of late, but I always enjoy reading your blog, Kevin. I hope that the move goes swimmingly and that you enjoy more musical adventures in your new home in North Carolina! Maria x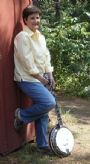 You must sign into your myHangout account before you can post comments.