Posted by wkb28791 on Sunday, May 20, 2007
Yep.....much to my wifes chagrin, the freeloader is still here. Momma says that we have to give her a deadline which is fine with me. She can't leave soon enough. My 31 year marriage is getting a little rocky due to this little episode of my life.
On a positive note; I'm thinking of selling the old RB-4 that I got from Tom McKinney and using the funds to get Lo Gordon to build me one......just a thought. I love that old time sound and all the tunes that are done in mountain modal.
---
2 comments on "She's still here"

frailin Says:
Sunday, May 20, 2007 @6:43:25 PM
Lo builds a great banjer! Maybe you could trade in the freeloader, too!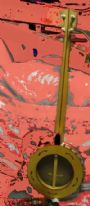 RWPark Says:
Sunday, May 20, 2007 @7:28:55 PM
Ever thought of practicing your 'jo just outside her sleeping quarters every morning at 0200?
I was looking at the Cedar Mountain's before I bought my Cloverlick.
You must sign into your myHangout account before you can post comments.