Posted by stigandr5 on Tuesday, August 9, 2011
Ever since I watched Youtube user rpeek play a gas can banjo, I knew that I'd end up making one. It would be good experience if nothing else, I figured.
I stumbled upon a dusty old gallon can of what was at one time parts cleaner on my grandparents' farm, blew the residue out with an airhose and tucked the treasure in my trunk to be discovered some other day. A few months later over New Years, I remembered the can; I bought a 30" 2x2 of cherry for $12, a pack of nylon banjo strings for about $3 and 4 pen blanks of zebrawood for pegs, nut and bridge. As the world rang in 2011, I heralded the birth of a new banjo.
The action was almost unbearably high. However, this being a fretless instrument, I reasoned I'd get used to it. I fiddled with my new toy 'til finger positions began showing up on my unfinished piece of cherry. It wasn't long 'til we became fast friends.
(First video I posted of the canjo)
What I like most about these banjos is how stinkin' real they feel in your hands. There's no wondering how it was put together, no real trick to getting it to make sound, and yet the music you can produce rivals that of much more expensive instruments.
A friend of mine repaid a favor by installing a Piezo pickup in the top of my banjo (results can be heard HERE).
***
I decided this banjo would accompany me to Haiti. But the old Ditzler canjo had a few striking problems. Number one: the can I used contained a highly flammable substance that I had not diligently cleaned out. Number two: the can still smelled a little funky if you opened the cap. Number three: to the unwitting TSA agent, the wires of a pickup might look highly suspect. In short, I was carrying a banjo bomb.
So in the nick of time, I bought a 3 litre jug of olive oil and switched that can with its more volatile counterpart. I was glad to have the opportunity to refit the neck. It resulted in much better action all along the fingerboard. I had to discard my original zebrawood bridge, but I had a standard 5/8" banjo bridge hanging around that does the job admirably. The can is a bit smaller than the original. It's affected the sound, somewhat, but at least it made it here with me to Haiti.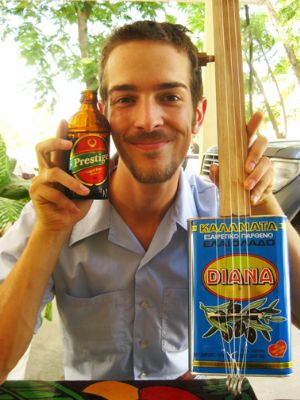 So for the next year, my video and music contributions to this website will be issuing forth from my humble, fretless, Diana-kalamata-olive-oil canjo. All the best from the Pearl of the Antilles!
N'a wè! (See you!)
---
2 comments on "The Joys of the Canjo"
Laurence Diehl Says:
Saturday, August 20, 2011 @8:45:14 AM
That's a very cool story and I enjoyed reading it. I am glad you finally dumped the toxic substances and went with the olive oil (which is high in antioxidents and Omega-3) and that color scheme is quite attractive! I will have to watch out for your videos/sound files as I am curious as to how it sounds.
Laurence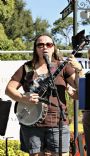 pickinchik Says:
Thursday, September 1, 2011 @7:27:15 AM
Wow Nathan!!! Have fun.
You must sign into your myHangout account before you can post comments.