Ok...I am trying to convince my beautiful Argentine wife "Cecilia" to graciously allow me to purchase a Goodtime Fretless Banjo for me for this coming christmas. We have two problems...well minor details more like:
1.) We have to move into a new apartment next month....its going to cost ALOT more that what we are paying now.
2.) We are saving money to travel again next year to see family in the states.
3.) Have to convince the wife PERIOD ( wait this was "3" I said only "2"!!? )
Any suggestions on how to pull this off? I "hinted" about it yesterday...needless to say...I was met with disdain and rolling eyes. Doesnt she get it...I am "hooked"...and now I have to feed this growing monster!!! I am going to need Banjo "re-hab" at the rate this is going...how come nobody prepared me for this!!???
Maybe I should learn to PLAY the one I have a little better first ( well that was kinda the look she gave me...or the translation of it anyways :(
( we do have good credit...that might work LOL!!!
---
6 comments on "REACHING CRITICAL mass ( "WARNING" meltdown may occur ) need another banjo!"

beetlegeist Says:
Saturday, August 6, 2011 @11:58:07 AM
That was funny to read. Maybe you should listen to your wife. One banjo is enough for now. I have only the one now and I have started to play better. I think two banjos have a problem. You can't play both at the same time. I would like another one but I do not really have the money. So instead I am playing the one I have to the best I can. When I have improved and the banjo is worn out, then I will buy a new one. By then I will know exactly what I want in a new banjo and what I want to play on it.



Karen Kruske Says:
Saturday, August 6, 2011 @7:17:53 PM
You may find that another new banjo doesn't totally soothe the beast. There is always going to be another banjo out there that you "have to have". Like Kester said you can only play one at a time and after you've been at it a while you'll know exactly what you want in a banjo.

RatLer Says:
Saturday, August 6, 2011 @9:56:57 PM
'course...if you REALLY want a "fretless"....you take a belt sander to the one you got...hmmmm...LOL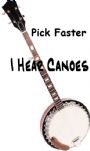 EddieP Says:
Sunday, August 7, 2011 @8:21:57 PM
all I know to tell you is to learn to play the frets off the one you got, then....WAALAAAA!

erikforgod Says:
Monday, August 8, 2011 @5:07:52 AM
LOL...belt sander...hahaha!! I think alot of guys with these Goodtimes DO take the frest off of em to play em fretless.

Jerald Bonds Says:
Monday, August 8, 2011 @11:11:17 AM
I got my first banjo and loved it but thought maybe I could do better,and now after 8 banjos,I find myself usually grabbing my first banjo over the others, especially when performing. It's A Goldtone-Model cc50. It's inexpensive and has A big, bright sound. Good luck.
You must sign into your myHangout account before you can post comments.