Posted by copron on Monday, August 1, 2011
Travel with me....back in time.....back to a simpler place....back to the late 50's and early 60's. During these ancient times if one chose to play the banjo you first...bought a banjo......then you snugged the head, tuned the strings and found some bluegrass records and commenced to learn the banjo. Life was good.
Fast forward 40 some odd years to the present where I find out after a few festivals and the Banjo Hangout that I have gone about things totally wrong. The worst offense being that I have never owned a banjo fit for humans. So after gleaming all the info available I found the right parts to build the banjo that would simply be called ......."The Banjo of the Gods"........The very sound of this instrument would make strong men weep....and women swoon........and would melt the coldest of hearts.
On to the parts list.
The Rim........: The rim must be hand carved from the keel section of a Spanish Galleon sunk during a hurricane off the coast of Key West Florida in 1563.
Tone ring and tailpiece......: These two items must be forged at night under a full moon by Nubian virgins.
Bridge.....: Must be carved from the uppermost branch of a giant Redwood by an Old Henry pocket knife.
Nut......: Carved from the bone of a Tyrannosaurus Rex,....Brontosaurus can be used but expect tonal variations.
Strings......: strings are a personal thing but for this banjo ......only one set will do. These strings have to be manufactured under zero gravity conditions on the International Space Station where they will be immediately be cryogenically frozen( again by Nubian virgins.)
Head...: The head must be a Remo Weatherking "pre-EPA" head. The proper tension will be obtained by bouncing microwave transmissions from a satellite in geo-synchronous orbit directly to Area 51 where the correct tension will be analyzed.
All the rest can be ordered from Stew-Mac........so don't worry about it.
After building this instrument I went directly to the nearest bluegrass festival. While unlimbering "The Banjo of the Gods" I was in heady anticipation of the weeping and swooning that would occur after my rendition of Foggy Mountain Breakdown. Upon finishing the tune a lone banjo picker walked up and said, " That banjo sure does sound good.......it must be a PRE-WAR"...............................................damn.
---
14 comments on "The " Banjo of the Gods"."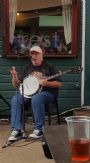 joemac Says:
Monday, August 1, 2011 @10:22:20 AM
Yeah Ron life was good back then banjo wise, man i used to gaze adoringly at my $150 beauty and endlessly work through the one book available over here, Earls book. I had a few Stanley tapes on my little mono tape player,....years later, thousands spent looking for my "Banjo of the Gods" and it turns out we done got the same machine ha ha ha!!! all the best to ya buddy.

quikcarl Says:
Monday, August 1, 2011 @11:07:10 AM
You have been talking to Warren Yates, at least it sounds like it. Thats how he builds his, found his nubian virgins down by Henry River, sunning on the rocks.

beetlegeist Says:
Monday, August 1, 2011 @11:11:04 AM
Ha ha ha, that was funny. The thing about the virgins, there arn't many where I am.

buckbybanjoboy Says:
Monday, August 1, 2011 @3:08:12 PM
You struck a chord with me Ron, as my late father always said....."Boy, stop fiddling about with that thing and just play a bloody tune !"..................Regards Peter V.

Banjov1 Says:
Monday, August 1, 2011 @6:47:55 PM
Damn... now I've gotta get me one of those nubian virgin forged tone rings

VancePants Says:
Monday, August 1, 2011 @7:46:28 PM
DAMN RON... per my comment on "Pitkin County Turnaround"... you COULD do stand-up! That was truly witty:) Now... where did I leave that Ancient Tone fossilized Walrus ivory bridge i was gonna install tonignt... ???

DrBob Says:
Tuesday, August 2, 2011 @12:47:42 PM
Perfect blog on your profile page, Ron...In addition to being one of my "Peeps" from the thin blue line, sounds like we may actually be kindred spirits bound to the sound of those nubian virgin forged tone rings ;-)

stanger Says:
Thursday, August 4, 2011 @9:33:18 AM
Most excellent post!
Far too many players these days spend far too much time spending money on voodoo and far too little time actually playing. It's as if magic credit points on some mystic scoreboard becomes more important than actually having fun with your banjo.

Joe Jakonczuk Says:
Wednesday, August 10, 2011 @6:39:57 PM
I can't believe we haven't met either. I've even played at The Red Barn in Heber last year. I've also been to about every festival in Arkansas the last 10 years as well. We jam at the Revival Church in Searcy every Tuesday night from 7 to 9.

Horseshoot Says:
Thursday, August 18, 2011 @8:43:19 AM
I am stealing this (if I have your permission!) Mike

copron Says:
Thursday, August 18, 2011 @11:27:04 AM
Go right ahead.

alfiedog Says:
Thursday, August 18, 2011 @12:05:52 PM
Those Nubian Virgins, sure get around. Great Blog Ron !

wbalsam1 Says:
Sunday, September 3, 2017 @6:31:16 PM
Ron, I sure enjoyed your blog. I live in Searcy and play a lot of Bluegrass with Joe Jokonczuk from Beebe, and Stan Caldwell, Steve James and Kent Latch from Heber Springs. I'm looking forward to meeting you.

copron Says:
Monday, September 4, 2017 @12:22:58 PM
wbalsam1, I think I have had the banjo out of the case maybe one time in the last year. Most of my time these days has been rock and blues guitar work. Maybe we'll run into one another I am in Searcy about once a week.

You must sign into your myHangout account before you can post comments.