I have been thinking about some of the "Bottletone" modifications XNavy and other have been doing to their Aluminum rim banjos lately and had an idea;
What if, instead of a maple banjo with an aluminum tone ring, we came up with a maple tone ring for an aluminum rim?
I had the top half-inch of a Gibson 3-ply rim hanging around for a while, so, I thought, Why not
I removed the head and tension band from my Epiphone MB200. Here you can see the maple veneer lining I've had in for about 2 years:

I marked off a key-stone shape for removal because the Gibson rim was too big to fit inside the Epi. My reasoning was that , like a C-clip, the too-large maple rim could be pressed into the rim and stay in place from the spring tension.

Once the keystone was cut out, I had to carve some relief around the hump on the inside of the rim where the neck-mounting slot is. The neck nut was low enough not to interfere with the half-inch rim. I cut a small relief around the washer on the other end of the coordinating rod too

A few passes with a half-round bastard file and a wood chisel and the rim fit, so time to re-assemble and tune it up. I'll try to get out some sound files later.

here we are ready to re-assemble. I polished up the aluminum rim a little while I was at it.

And here is the final fitting before re-assembly. One advantage of working with an aluminum rim is that it leaves its own markings on the wood, showing where more relief is needed.
And here's Molly, my Epi MB200 as modified with a 3-ply maple "tone ring", which you can see through the Renaissance head

Last, a close up showing my modified (compensated) Dam Bridge. ( Thanks, Jerry!)

Larger versions of the photos are in my Photos, in an album called WaldoTone.
8:15PM EDT- sound file added, Rondo Waltz in A in progress.
---
8 comments on "The WaldoTone Rim, or thinking outside the box."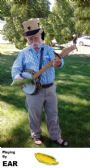 mike gregory Says:
Saturday, July 16, 2011 @3:55:22 PM
Your file may be a bit too large across the diameter, and not the friendliest tool in the drawer, but calling it a "round bastard" is just plain mean.

Other than that, the modification seems like a wonderful idea.

Klondike Waldo Says:
Saturday, July 16, 2011 @4:19:00 PM
from the MacIver of teh banjo world, I'll take that as a compliment.

randallaustin Says:
Saturday, July 16, 2011 @7:48:24 PM
geeeeniiiuuuss

MrNatch3L Says:
Sunday, July 17, 2011 @4:34:48 AM
Interesting to hear how it sounds. Back in the late 70s I had a Washburn with a 3-ply maple rim (maybe it was total plywood, I can't remember now) and an aluminum flathead tone ring. It was basically a Gibson copy, but was of course a cheaper than a Gibson or Ome or something like that on account of the cheap tone ring, crummy tuners (I replaced them with StewMac 5-Stars), stamped pot-metal tailpiece and probably some cheap no-name bridge. I was working in a music store and got it at cost. It didn't sound like much, but then I had no concept about setup back then either. It might have been decent enough if set up right with a good bridge. I probably had the head cranked almost to splitting. :-)

Paul R Says:
Saturday, July 23, 2011 @5:50:01 AM
Hey, Bob, that's neat stuff! It's like a homemade version of Will Rickard's new spun pots made with essentially the same technique. I'll bet ot calms down the sound.

xnavyguy Says:
Tuesday, October 25, 2011 @11:00:59 AM
Bob, this is the first time I've been aware of this project. Nice job!

xnavyguy Says:
Tuesday, October 25, 2011 @11:04:02 AM
I wish I'd thought of your keystone idea. I wouldn't have had to spend so much time cutting the wood rims down that I used on my bottletone project.

You must sign into your myHangout account before you can post comments.