I'm really enjoying getting to know the new CEB-5 Cello banjo that I purchased from Paul Roberts at banjocrazy.com. It is quite unique in its sound and feel and it inspires a new approach to playing and composing. Just what I was hoping for!
I recently posted an original tune called "Moonlight Serenade" that was recorded using this instrument. I originally wrote the tune to be performed using a conventionally tuned banjo but the CEB-5 with its one octave down double D tuning really enhances the dark mood of the piece.
If you're interested in hearing it, here's a direct link to the tune:
http://www.banjohangout.org/myhangout/media-player/audio_player2.asp?musicID=22207&archived=
- Ric
---
3 comments on "Cello Banjo Explorations"

lbartosh Says:
Tuesday, July 12, 2011 @5:57:53 PM
I really like the sound of this and also enjoyed your video. Great sound, please post more when you get a chance.
Frailblazer Says:
Wednesday, July 13, 2011 @11:53:21 AM
Thanks Larry.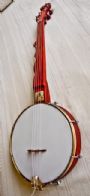 sport Says:
Friday, August 5, 2011 @4:33:45 AM
Always inspiring ...I am now torn between my next long term project being trying to make a real stand up bass or a cello banjo.
Meanwhile, I will channel some of this energy into composing
thanks for sharing
Fr Kevin

You must sign into your myHangout account before you can post comments.