Posted by Kevin G on Saturday, June 4, 2011
Midwest Banjo Camp is happening in Olivet, Michigan this weekend, and I'm missing it. I went last year for the first time, and I loved it. So why am I not there? A better event: Our daughter's 21st birthday.
How often does your kid turn 21? To be honest, it was a tougher call than it probably should have been, but that's just a statement about how great the camp was. I started Clawhammer there last year in the beginners' track, and tried hard to get the right hand stroke down during that weekend. The beginning CH instructor, Terri McMurray, was outstanding--friendly and patient. So I was looking forward to my second trip there, and when I saw the schedule, I was sad.
But: How often does your daughter turn 21? So although I'm a little sorry I'm not there, I'm glad to be home this weekend with my family, celebrating a major family milestone. So I'll just get my banjo out, light a candle, and have the free home version of the Midwest Banjo camp. And I'll have a glass of champagne with my daughter.
---
3 comments on "Midwest Banjo Camp...and I'm missing it"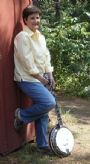 Banjosnob Says:
Saturday, June 4, 2011 @4:54:41 PM
What is she going to remember about her 21st bd. You being there!

TopCat Says:
Tuesday, June 7, 2011 @12:59:07 AM
It's a shame that the two dates had to clash, Kevin! I hope you can get to another event soon!

Horseshoot Says:
Saturday, July 9, 2011 @6:24:57 PM
Sounds like a solid plan, to me!
You must sign into your myHangout account before you can post comments.