I'm really looking forward to the Coastline bluegrass festival this next weekend.
Hope the weather picks up bit otherwise I'll be envying those Welsh mountain sheep with their wooly jumpers.
Any other BHO members attending?
---
8 comments on "North Wales Coastline Bluegrass Festival."

alfiedog Says:
Saturday, May 28, 2011 @3:40:17 AM
I am John ! And so is my Chum Nick C.

Jane C Says:
Monday, May 30, 2011 @6:11:34 AM
Maybe. Maybe not.

Banjo Island Says:
Monday, May 30, 2011 @2:33:54 PM
Yes indeedy

5stringJim Says:
Monday, May 30, 2011 @4:23:34 PM
Yup, we'll be there ( Longway ). I've been asked to do the fiddle workshop Saturday morning, too ! Can't have too late a night on Friday !!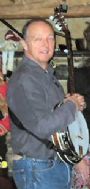 john leary Says:
Tuesday, May 31, 2011 @10:45:30 AM
It'll be great to see you all.
The weather forecast is that good, that I maybe flashing my milky white legs for all and sundry.
So come along JaneC or you'll miss everyone taking the micky out of my nobbly knees.
Hey there's a thought what about a nobbly knees contest?
Hey Jim, What about a banjo workshop?

5stringJim Says:
Tuesday, May 31, 2011 @12:04:05 PM
I think Jens Koch will be doing the banjering workshop. But we are there for the whole day Saturday, so if anybody has questions, grab me on the way past. Looking forward to it !!

NickC Says:
Thursday, June 2, 2011 @7:12:12 AM
See you there John and everyone.
Hope you can make it Jane!

blugraz Says:
Sunday, June 26, 2011 @3:38:06 PM
5stringJim......NickC....Jane.
Hope to c u all. :-)))

Sean
You must sign into your myHangout account before you can post comments.