Posted by n1wr on Wednesday, May 4, 2011
I'm relatively new here at Banjo Hangout, and still fining my way around.
I happened upon Kevin Barnsdale's blog, and it struck a note with me. So many of us were influenced by the Dueling Banjo episode of Deliverance - I was in college at the time, living out on Long Island, NY and going to school at the Polytechnic Institute of Brooklyn - an unlikely environment for bluegrass music. My dad was a musician - he played mostly guitar, but also bass. I took guitar lessons from him in my early high school years and got into a high school rock band playing Beatles, etc. From there I went into a bar band, also playing contemporary rock. Somewhere around my sophomore year in college I got hooked on the sound of the banjo. I bought a $60. Harmony and searched far and wide for material to study - I had little hope of finding a bluegrass banjo teacher on Long Island. I got the Scruggs book, Pete Seeger's book, and a couple others, but there wasn't much available - not like today with tons of material on the internet. I finally found a teacher - his name was Kevin I think, but after a couple months he got picked up by the New Christie Minstrels and that was the end of my lessons. After college I was traveling around as a field engineer for the FAA. I was up in Burlington VT and went to an Earl Scruggs/Doc Watson concert. Lo and behold that hooked me on bluegrass guitar - ala Doc Watson, who remains way on top of my favorite musicians. The banjo got set aside and off I went learning as many of Doc's tunes as I could. In my travels I ended up in Caracas, Venezuela during the early eighties. I fell in with a couple musicians and we were playing a variety of tunes of mostly country flavor, and the banjo fit in with the group very well. So I played Cripple Creek, Foggy Mountain Breakdown, backup for a couple tunes, etc on the banjo, much to the joy of the Venezuelans who most never saw or heard a banjo. In Venezuela I bought a Stewart Macdonald Diamond Eagle banjo kit - which I still have to this day. From Venezuela I moved on to Puerto Rico, where my boating interests, the blue Caribbean and a 28 ft Columbia sailboat consumed my spare time. And then I was fortunate to move to northern Kentucky, where I again got back into listening and playing bluegrass. I wasn't good enough to play banjo in a bluegrass band - and job pressures didn't allow enough effort to improve my playing. All my life I have been plagued with too many interests the first being family, and then all my hobbies including ham radio, computers, boating, woodworking, music. Just never enough time. Well, round and about I passed through Chicago for a couple years, and then on to Washington DC to finish up my career with the FAA. Now here I find myself retired, still trying to manage all of my competing interests (which naturally include a sailboat on the Chesapeake), and I've decided that I am going to commit to improving my banjo playing. I've been working hard at re-learning what I've forgotten, focusing on the basics, slowly building speed, and trying to figure out how to play effective backup banjo. And enjoying every minute of it. I'm looking for others in my area (southern Maryland) to jam with and potentially put together a group. At this time it would be a stretch for me - but I've found that I work well under pressure, and that would hopefully push me up the notch I need to get my playing where I'd like it to be. Music has been so very important for me throughout my life, and I feel like I've come home with bluegrass and the meanings that it represents.
---
8 comments on "Where I Came From"

Karen Kruske Says:
Thursday, May 5, 2011 @5:41:15 AM
Sounds like life has been an adventure for you Wayne. Keep picking, and yeah, jamming will be that extra pressure to help keep the interest level up, and the desire to improve.

erikforgod Says:
Wednesday, August 3, 2011 @5:03:54 PM
Welcome Wayne...it seems you are a pretty "spontaneous" guy like me...you have lived in quite a few places and have done and seen quite a bit. Its great that Venezuelans loved your Banjo...I have no doubt Argentines will feel the same...they are REAL lovers of any kind of music down here!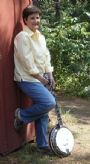 Banjosnob Says:
Tuesday, September 27, 2011 @8:40:10 AM
Why don't you start a jam group. All you need is people, simple bluegrass songs, and a place. This could be anywhere. Park, Senior center or conval. home. Here is a link to doing it. I dare ya!

meetup.com/create/



Max Sand Says:
Friday, October 28, 2011 @9:27:38 PM
Great life story there dude. Well done!

panthersquall Says:
Thursday, September 20, 2012 @8:02:03 PM
It's never too late! Here's hoping playing the banjo will be your funnest adventure so far :-)

Lady Bird Says:
Thursday, September 20, 2012 @11:40:40 PM
Great story of your life so far, the banjo will keep you going, keep at it, it keeps us happy and young..................Jill

JMalmsteen Says:
Sunday, July 14, 2013 @7:58:45 PM
It might be a bit of a hike, but my favorite jam is at the White Oak Campground, in PA, if you haven't found a jam. It's on Saturdays from 5-8, in the Lancaster area.

Jim White Says:
Sunday, July 24, 2016 @4:59:55 PM
I can certainly relate to everything you say Wayne. My Navy travels took me all over the world. The Sardinians in 1973 didn't know what to make out of my banjo! I don't think they had ever heard or seen one. Same with the Guamanians in 1976. "Coming Home TO Bluegrass" is a well-fitting statement! DITTO!
Jim W
You must sign into your myHangout account before you can post comments.