Posted by raharris on Saturday, April 16, 2011
Called a danyen, ​of course it's not a banjo at all, but it looks like one. The guy in the picture below made the model danyen I bought today, and is holding one that looks just like it. With three double courses it is tuned in fourths: Aa-Dd-d"-Gg. It is sold in a shop by and for Tibetan artisans in the small Hui (an ethnic minority) neighborhood of Lhasa. According to their brochure they also have a website: http://www.tibetcraft.org.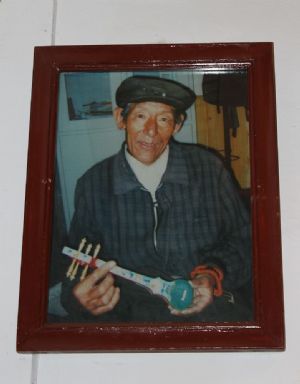 ---
1 comment on "Tibetan "banjo""

beetlegeist Says:
Sunday, April 17, 2011 @3:58:04 AM
Just before I saw this blog I was looking on You Tube. I do enjoy Tibetan music. There was a guy there singing and playing what looks to be a danyen but it was much bigger. I must say that I enjoyed listening to it. That has increased my interest in Tibet. One day I hope to go there before the modern world makes it all history.
You must sign into your myHangout account before you can post comments.