My Media section on this site was done during and after mom was in the Oncology Ward at St. Joe's Hospital.
Bless the entire staff at St. Joseph's for letting me come sing and play to her there.
Thank you as well to my friends who loved her also and made time to accompany me on these trips.
I shed more than one tear making these and you can hear where I struggled getting to the end on a few,
They fulfilled a promise I lovingly made to her and I make no apologies for imperfections to others ears.
http://www.banjohangout.org/myhangout/music.asp?id=21464
Miss you Mom .....Not a day goes by that the kids and I don't think of you :)
Be humble, share kindness, show love
---
9 comments on "Be Humble, Share Kindness, Show Love"

jimh269b Says:
Sunday, March 6, 2011 @12:28:28 PM
buffy thats a very touching thing you done here,its perfect,great job,love it jim
rickshunter1 Says:
Sunday, March 6, 2011 @12:48:25 PM
Very Nice you have a beautiful voice your mom would be proud I recently lost my Dad a couple tears ago but still seems like yesterday I wrote a song for him while he was still alive and the words were wrote out on the back of his pamplet handed out at his funeral I still have problems singing this song.

dgill Says:
Sunday, March 6, 2011 @1:35:51 PM
I bet you do miss her Buffy. She would be so glad you stayed with this. It can bring joy both now and then for the both of you.

BuffyMcGibbon Says:
Sunday, March 6, 2011 @1:51:28 PM
Thank you Rick and Donnie :) .....Rick I am sorry for your loss truly. I never expected to be the Matriarch of my family at 38 years old. The pamphlet and your song are a great story and tribute. I am still really shy about my writing and sharing it but it's getting better. Hearing from others and relating is nice. Donnie isn't it about time for you to do a video ? I want to see the big curly haired wig or some hat's again soon! LOL Happy Sunday all.....I have to go participate in an athletic charity event that involves riding donkeys and playing basketball......does the humility ever end ? :)

dgill Says:
Sunday, March 6, 2011 @2:13:35 PM
Ok Buffy, I will get one up this week. Maybe John Hardy.

Banjov1 Says:
Sunday, March 6, 2011 @10:01:22 PM
Really touching background Buffy!! I bet you brought some real joy to your Mom during her final days with these tunes. They were first rate! Loved your rendition of Crazy. Did you play that and sing it at the same time? That's a tough one for most folks to pull off.

BuffyMcGibbon Says:
Monday, March 7, 2011 @9:55:21 AM
Tony you are correct.....tough to play that and sing it well simultaneously. I was blessed to have a good friend offer to do the guitar work while I tried hard to focus on hitting my notes :) DB is a fantastic guitar player and I was very grateful for his time and talent donation to the cause :)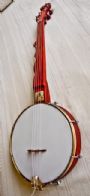 sport Says:
Tuesday, March 8, 2011 @9:10:49 AM
Thanks for this post and songs. I find writing songs or recording them for loved ones are special gifts. (and big time investments at times..)
PS I am hedging my bets that banjos ring in heaven

lewis_86 Says:
Thursday, April 18, 2013 @7:54:02 AM
Very moving. Lovely work x
You must sign into your myHangout account before you can post comments.