"Nothing against the North, but I've never had any Yankees in my band and I don't plan to. I've had some fill in on a show when I was short a man and they done fine, but I've never hired any permanent. I like to play shows in Boston and New York and a lot of places up North, where we have some of our best fans, but you couldn't find a Clinch Mountain Boy up there if you spent the rest of your life looking."
- Dr. Ralph Stanley, from Man of Constant Sorrow, My Life and Times
---
14 comments on "I Guess I'll Never Be a Clinch Mountain Boy"

Don Borchelt Says:
Tuesday, February 8, 2011 @6:14:51 AM
Actually, he's hired men from Ohio, but it's been so long since I moved away, it don't likely count anymore.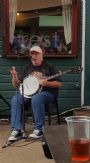 joemac Says:
Tuesday, February 8, 2011 @8:08:31 AM
Well Don, where does that put me!!!!!!

kevinwholmes Says:
Tuesday, February 8, 2011 @8:24:37 AM
Behind a nice new Nechville and happy about it, and definitely not a Yankee, like me, originally from CT (New England), now in NC.

RatLer Says:
Tuesday, February 8, 2011 @8:54:39 AM
I'm a "full-blooded-briar" from southern Ohio...do you think he would consider me........nah...

thehurricane Says:
Tuesday, February 8, 2011 @10:17:47 AM
The difference between a fiddle and a violin is the attitude with which it is played. My whole family(Mom's side) is from the Clinch mountain area. Mooresburg, Rogersville, etc. I have been many places and met many people. What I am gettin' at here is that it don't matter where you from, its who you are that counts!

Old Man Says:
Tuesday, February 8, 2011 @4:53:17 PM
Clinch moutain right behind my house see it every day

From Greylock to Bean Blossom Says:
Wednesday, February 9, 2011 @10:52:22 AM
Sorry Don, But you have to admit Ralph has had great bands. Maybe he and Bill worked out a deal. Too bad Bill's not still here, he would hire you to follow up in " Brad's" place.
Ken


Don Borchelt Says:
Wednesday, February 9, 2011 @3:37:44 PM
Yup, I admit Ralph has been able to pick'em. I wasn't arguing with him, mind you, and the quote is taken out of context. I'm just disappointed, is all I'm saying. :D :D

jbjo Says:
Friday, February 11, 2011 @5:48:10 PM
I was severely disappointed when I read this in his book......oh well.....
maryzcox Says:
Sunday, May 8, 2011 @11:13:39 AM
LOL:)
maryzcox Says:
Sunday, May 8, 2011 @11:20:05 AM
I've played in bands with rural southern men most of my life and Ralph sounds pretty much like most of them. :) They spend a lot of time with each other and it has nothing to do with how good you play--there is always the risk that a northern banjo player might be vegetarian or be on some special diet--or just doesn't understand collard greens, cheese grits, or fried fish with raw onion on top. :)

R.D. Lunceford Says:
Sunday, August 21, 2011 @10:01:48 AM
Los Angeles>>>The Ozarks>>>Washington State.
Don't think that makes me a Yankee, but it probably
disqualifies me all the same... and thumping a gut-strung fretless probably don't help none neither!!!

Jim Yates Says:
Friday, September 30, 2011 @11:20:21 PM
I guess Ontario isn`t Yankee territory. It`s Southern Ontario too.

Coonskin Says:
Sunday, May 6, 2012 @2:39:44 AM
Ralph knows best...I mean, who's in a place to argue? :) The southern sound is...southern!

Sorry, Don! :)
You must sign into your myHangout account before you can post comments.