Posted by frailin on Sunday, January 16, 2011


Hey everybody, after much to-doin', I'm delighted to tell you all about the Eelpout's latest and greatest adventure into deep waters (the recording studio)!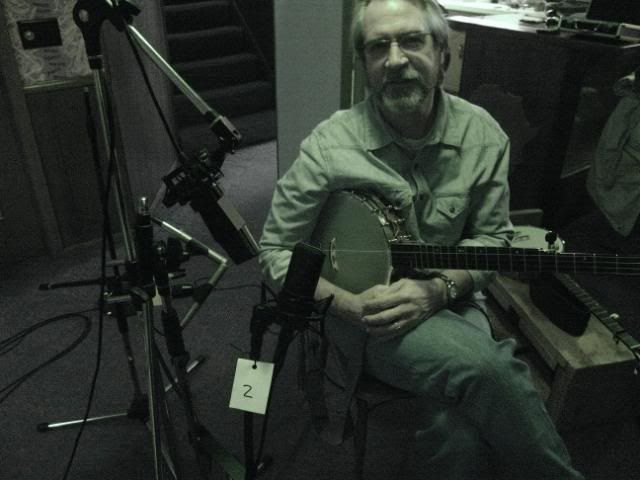 Yay! We did it! We really really did it! We laid down 21 complete tracks of old-timey delight... well, not really, I guess. Twenty numbers were in the fine old-time tradition, but Gill, he had this folky-Irish thing he really wanted to do so we all said "ok", and did it with him. Lookin' back, we're all purdy glad we did. His heartfelt rendition of Hobos in the Roundhouse made us all look much more versatile than we really are (Keeper even played harmonica!). So we kept it in. :)
Yep. Since 2004, we been havin' so much fun playin' this old-timey music live for folks here in the midwest we decided to cast our line outside the old fish bowl to see if folks elsewhere would care to nibble on our sushi. But that meant knucklin' down and gettin' serious about how we play these tasteful, timeless tidbits. After all, whatever we put down on a CD had GOT to be good! Even by old-timey standards. Fer instance, Fin, once he gets a-fiddlin' on a tune, he forgets about time AND space. He might wake up oh, 20 minutes later with a big 'ole grin on his face and wonder what happened.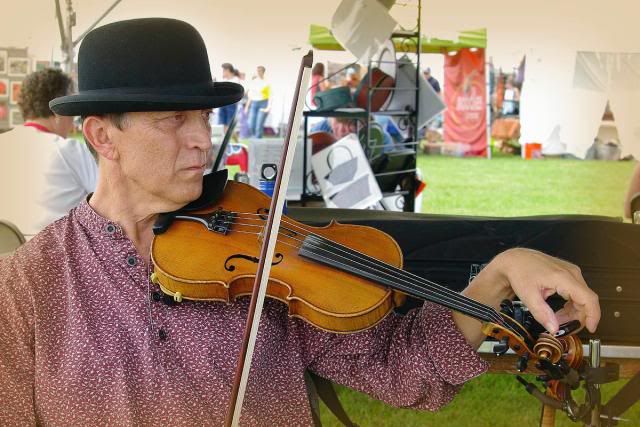 He'd been havin' a ball! Now that's ok for a square dance, but audiences kinda wear out after the first 5 or so passes. So we had that to iron out straight away.
Then there's the singin' part. Mostly we just let Keeper croon because he's not only good lookin' he's got that smooth, nasally bluegrass twang, if you know what I mean. And that high lonesome sound really makes the hair stand up on the back of your neck... in a good way. So we had to put together some better harmonies rather than the pirate chorus we usually sing since they sound purdy good after 3-4 beers. And there was to be NO drinking in the studio! Wow. This was gonna be REAL serious!
So it took us, oh, about about 20+ hours of singin' in the can to get it all down. Everybody brought their "A" game... plus, the no beer rule kinda' cut down on any reason to hang around. Nobody served food, either. DANG! So serious!




Next, our master techo-guru David Tousley took over and cleaned up our fishy act. He might look familiar to ya. David's the bass player for Valerie Smith and Liberty Pike. Man, he made us sound WAAAY better'n we ever do live. But don't tell no one, ok? Oh, if you ever see him playin' with Valerie, walk up and introduce yourself. Then tell him 'thanks' for saving the Eelpouts sorry tails. He'll know your joshin'. He's like Keeper. He cyphers stuff out that way real fast.
Ok. Now for the REEELY good stuff. If you want to sample the "Rockin' the Boat" music, it's posted at www.eelpoutstringers.com on the "Songs and Tunas" page.
Here's the back of the CD insert with the boatload 'o tunes!
If you like what you hear, you can land a copy of the Rockin' the Boat CD right then and there via Paypal! It's only one click away. I know it works cause a few folks have already placed orders (thanks mom and uncle Jack).
So I'm headed down to the duplicator this Wednesday to pick up our first o-fish-all album shipment on Wednesday. Can't wait! Any order we get prior will be guaranteed shipped the very next day (Thursday, January 21st)!


Cover art by the lovely Ms. DeAnne (my incredibly significant other).

Thanks folks. If you do buy this CD, you humble us. We really are seriously delighted to pass along the joy we find in traditional Americana music. Thank you for helping us spread its history and happiness-influence even farther.
And thank you for supporting the arts!!
Truly yours truly
Bullhead (that's frailin to you BHO folks)
PS - Now don't forget... for a complete listing of all the tunes on "Rockin' the Boat" (sound samples, too), head on over to www.eelpoutstringers.com and click on "Songs and Tunas." Then sit back, relax and enjoy the wonderful sounds of that great old-timey music. :)
---
3 comments on "It's o-fish-all... "Rockin' the Boat" launches!"

Furmans student Says:
Thursday, September 1, 2011 @6:42:22 PM
Ive taken a liken to the song "Orphan train" and I think i ran across a video of it with a banjo player that looks like you! Am I right........ Well done!


jennylve1 Says:
Saturday, October 4, 2014 @10:31:33 AM

"Hello
i am Jenny I saw your profile today at banjohangout so
i decided to write to you, here is my
email (jennypeterson988@yahoo.co.uk) so that
we will be come a new friend and i will also send you
my picture, sennd you
You must sign into your myHangout account before you can post comments.