Posted by Dock Jekel on Wednesday, December 29, 2010
Fiddle is too fun. I can't stop practicing. Getting pretty good (I should say... OK!), with the help of slow downer and all my fiddle heros. Maybe my love of oldtime music, itself, has trancended my love for just the banjo (still love banjo)... and, that playing the fiddle, too, is getting me that much closer to my own music bliss.
---

philbywan Says:
Thursday, December 30, 2010 @7:07:15 AM
I find that I can pick out melody on a fiddle really well, maybe better than on guitar or banjo. Could be that having no frets just makes me pay attention more. you're right tough, it sure is fun.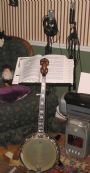 doley50 Says:
Saturday, January 1, 2011 @10:00:28 AM
I have to agree the Fiddle is sure a fun instrument to play , I agree with you philbywan , melody notes seem to just lay so naturally
on the fiddle , I think it may have to do with the tuning . either way it is a blast !
You must sign into your myHangout account before you can post comments.