Posted by skoobee on Thursday, December 23, 2010
Okay, so is it just me?
I stop playing for 8 weeks just so that I can ditch the worst of my Tennis Elbow, which thankfully appears to be under control now - a few more sets of shots should sort it (or so the sawbones reckons!) Then, I get a court order to allow my son to come live with us in Snow free South Devon - which is very cool!
So I have to build a room for him to sleep in, which is just some dry-wall (stud and sound-deadening plasterboard) - which although not the simplest thing to do, I managed. I paid a guy to skim a layer of plaster over the boards, painted it myself and fitted the archetrave round the doorways. So what's left? Skirting board around the bottom of the walls, that's all.
So being mentally ill, I decide to re-use the skirting board I took off the existing walls to reduce the costs; environmental and financial. To do this, I have to remove some huge lumps of adhesive with which the skirting was originally attached to the walls. Ain't it just the way - I get to the last piece to cut, I'm removing the lumps of cured adhesive using a 1" wood chisel and...
I slipped.
I now sport a 3" laceration to my left thumb in the soft fleshy part where the muscle is.
So why am I cursed by the banjo gods? I tried continuing to work, and playing Banjo - both of which forced the wound open and led to profuse blood-loss. So I must now lay-off Banjo for another 2 weeks whilst the stitches do their job and it heals.
It's like a ying and yang thing - something good happens, something bad happens to balance it out!
At least the kids can't really blame this one on my being officially 'Old' now. Oh, and for the record - I am retired from using wood chisels - official!
---
4 comments on "Fallen foul of the Banjo Gods..."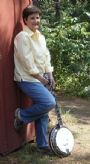 Banjosnob Says:
Friday, December 24, 2010 @4:52:04 AM
OWWWWWW!
Be thankful it wasn't your right thumb!!!

beginagin Says:
Friday, December 24, 2010 @5:14:56 AM
Wow, I feel for you Adam. I get a little testy when I miss one day! I understand the tennis elbow though, I have a good bout of it now. It flared up when I was digging post holes back in June and a long practice session really gets it going. It's in my left/ fretting elbow. I don't think it will go away totally unless I lay down the banjo for a while, so I'm gonna live with it as long as I can.

tgaryc Says:
Friday, December 24, 2010 @11:28:16 AM
I ended up having carpul tunnel sugery on my right hand because my fingers swelled up so bad from playing , but I am much better off from having it done. I'm 65 so now I have an excuse for not doing anything except pick and sing.
Remember this to will pass, Listen to as much banjo as you can in your time off and you will have plenty of stuff to try out when you start up playing again. Best of luck and happy new year

banjoike Says:
Friday, December 24, 2010 @5:38:30 PM
Can you still drink a beer? Not all is lost! Merry xmas!!
You must sign into your myHangout account before you can post comments.