Hi Everyone! Hope you all are having fun this time of year with family, music, and holiday stuff. This year has been so busy, with moving into our Havertown home, getting settled into the Philly area and trying to have as much fun as possible! I am hoping that 2011 will be the year I get myself a new banjo-I am looking for a fabulous 12" pot with a fast neck and lots of depth of tone. You will probably see me doing some shopping at Clifftop! Happy banjo playin'!.
---
3 comments on "Happy Holidays"

kc8tby Says:
Tuesday, December 14, 2010 @2:48:24 AM
Happy Holidays right back to 'ya, Jane!!
Peace!

GSCarson Says:
Tuesday, December 14, 2010 @7:03:33 AM
And to you, Allen and family Janie. Haven't seen one bit of you since you moved to our state. Busy here too but would like to play some music sometime!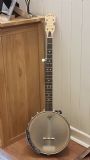 TomJoad Says:
Sunday, December 21, 2014 @12:38:53 PM
Season's greetings. Hope you find your new banjo.
You must sign into your myHangout account before you can post comments.