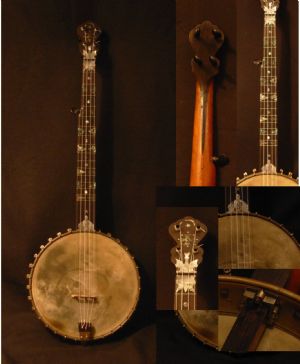 All of the dark wood (fingerboard, peghead front & back, backstrap) was ebonized and almost completely crumbled away on this banjo. About half the inlays were missing, and I removed all of the remaining inlays. I replaced the dark wood with local black walnut, which I darkened using a deep mahogany stain then rubbed in black dye with thinner and tung oil so that the wood would have reddish-brown undertones and not-quite-completely black color like the old, dark wood. The triangles in the fingerboard are the highly figured, highly colored MOP that you find in the center of abalone shells. The original little dots around the cross in the peghead appear to be silver, so I used round silver rod cut into chips. I made up large inlays to match the recesses above and below the nut, and gave the inlays detail like another Buckbee banjo (since I didn't have any clues as to the detail on the original, large inlays).
The head is a salvaged calfskin which I softened with a mixture of neatsfoot oil and lanolin (recipe given to me by a book restorer - he uses it to rejuvenate leather book bindings). Dowel yoke and shoes are unusual shapes. Heavy, engraved tension hoop. Heavy pot is metal-clad inside and out. No maker's markings, but I think this one was made by Buckbee for either Herschel Fenton or E. Perry Allen, probably late 1800's. Deep, rich sound with Nylgut Minstrel strings. This one's a keeper ! ! !
---

Viper Says:
Monday, December 13, 2010 @8:08:46 AM
That's a nice one! Looks like a fine restoration job. Cheers!

dbrooks Says:
Monday, December 13, 2010 @3:31:35 PM
Terrific looking banjo with a wonderful future, thanks to your work, Mark.

Mark Ralston Says:
Tuesday, December 14, 2010 @3:11:03 AM
Thanks for the kind words..... this one has been a fun project.

John Herrington Says:
Thursday, December 16, 2010 @9:42:42 AM
Mark, you've done it again! Great job; wish I could see that buckbee. By the way, I've been enjoying mine that I got from you. Will be writing about it on the forums.

John Herrington
You must sign into your myHangout account before you can post comments.