Posted by jimh269b on Thursday, November 25, 2010
i got to know a lot of great banjer pickers and some just learning,all you guys are great in my book,shoot banjers sounds good tuning them,i try to make a tune i think that fit that person that i think he will like,and sometimes it may not work that way,its just hard to fit all in to that picture,still more to do,but thanks a lot guys,but if you liked the tune i made you that really makes me happy
---

Couchie Says:
Thursday, November 25, 2010 @5:24:02 PM
I'm proud to be one of the people that Jim has made a tune for. I can't think of a better token of someone's friendship.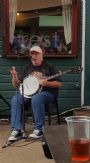 joemac Says:
Thursday, November 25, 2010 @10:07:00 PM
Me Too, i am honoured to have one of Jims tunes as my own........thanks man.

dgill Says:
Friday, November 26, 2010 @6:05:43 AM
Jim made me a tune when I was in the hospital back in March. It is a very special thing to me. For him to take the time to do this and send it out for me was amazing. Heck far, there were some other family and friends that did not even give me a call to see how I was doing. Yeah, Jim Reed is a special kind a friend to me. You bet he is.

jimh269b Says:
Friday, November 26, 2010 @6:46:23 AM
and you guys are welcomed

Oalbrets Says:
Friday, November 26, 2010 @8:36:50 AM
I am also proud to have Jim name a song after me. I just love the song and all my friends says it fits me perfect. Thanks Jim for being my friend and doing what you do.

jason holgate Says:
Friday, November 26, 2010 @2:07:56 PM
Jim you are right there are soo many great people here and pickin and helping every one along great place great friends great music!!
rickshunter1 Says:
Saturday, November 27, 2010 @5:10:51 PM
I would like to have you make a tune for me Jim when you get time
You must sign into your myHangout account before you can post comments.