I live within driving distance of Elderly Musical Instruments which means that I have the ability to play a lot of new and vintage instruments and compare them side-by-side. The old Gibsons I've played sound great, but a lot of new banjos sound great, too.
I have played some truly wonderful instruments made by Stelling, Deering, Widlwood, and other manufacturers who weren't around in the early part of the Twentieth Century. Banjo heads have come a long way, too, so all banjos sound better than they did in the old days.
Even my Asian Epiphone is an excellent instrument. I didn't want to take my GIbson to gigs because I was afraid it might get damaged or stolen, so I bought an inexpensive (factory second) Epiphone and, after a bit of tweaking, I couldn't be happier. Sure, the hearts and flowers inlays are made of plastic instead of mother of pearl, and the peghead angle is a bit shallow because it seems like they were trying to save wood, but it is still a great instrument.
Let's be honest; most of us are good players, but not so good that we require extravagant instruments. My band mates always notice when I've added a few new licks, but they really don't care one way or the other which banjo I'm playing. This includes two band mates, one former and one current, who have masters degrees in music and have well-trained ears.
On the other hand, I've heard so many banjo players gripe about banjos that I would be happy to play or own. I've actually heard people say things like, "I don't like Stellings" or "I don't like Deerings" and I think both of those companies make great instruments.
Do I think that Gibson makes great banjos? Sure. Do I like vintage Gibsons? Of course! But I can't see downgrading every other banjo simply because Earl plays a Gibson. I've heard it said that if Earl Scruggs happened to pick up a Vega Vox instead of a GIbson we'd all be playing Vegas, and I think that's true. Unless he was playing a home made banjo cobbled out of a cigar box and a broomstick whatever banjo he played was going to become the standard by which all others are measured.
So, before you gripe about a particular banjo or say why it is no good, remember that some other player might own and love that particular instrument, and if it does not happen to be your particular cup of tea at least let others be happy with what they have.
---
7 comments on "The New Golden Age of Banjo Manufacturing"

tgaryc Says:
Tuesday, November 16, 2010 @7:57:50 AM
I agree, I have owned a Gibson RB250 which I loved except for the small frets. I also own a Goldtone OB250, and a Brand new Hopkins. I like the Hopkins best but I play my Goldtone at a lot of jams and nobody no's the difference. I have to play easer on the Goldtone because it is very loud. The tone is the main thing and playability is next. Most people sound the same no matter what kind of banjo they play, you can't hide your style and touch.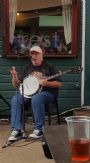 joemac Says:
Wednesday, November 17, 2010 @1:09:38 AM
Well said. exactly right.

Pablo9364 Says:
Wednesday, November 17, 2010 @3:07:12 AM
Nicely written blog Dan

Karen Kruske Says:
Wednesday, November 17, 2010 @5:49:32 AM
Thanks for the sentiments, Dan. I too live within driving distance of Elderlys in Lansing. Great place to check out insturments. Last time I was there the place was jumpin' with musicians and wanna-be musicians. I was one of the drooling ones!!

Frebazak Says:
Sunday, November 21, 2010 @5:58:37 AM
I'll chime in too,... when I hear what I think is a good sounding banjo, I look at the peghead to see who the maker is. I see a lot of different names.....

mrbook Says:
Monday, March 21, 2011 @6:58:56 PM
There are a lot of good banjos (and other instruments) out there. It is the player that makes them sound good.

BanjoDiva Says:
Monday, May 23, 2011 @7:23:04 AM
The last paragraph says it all!!!! Good for you Dan!
You must sign into your myHangout account before you can post comments.