Posted by pcfive on Wednesday, November 10, 2010
There are about 6 of us in an old-time / country jam group, and we have played together about once a month since last February. We usually jammed at a public library, but tonight we tried jamming at a nursing home. It was the biggest audience I ever played for! Maybe 20 or 30? I don't know, but I was a little anxious at first.
However, very soon I just got into playing and forgot about any nervousness. It was fun! I was able to look at the audience without getting scared or anything.
I am definitely hooked, as is the whole group. We had a great time and maybe they enjoyed listening. It really seemed like they did.
I hope the nursing home wants us to come back every month!
I also play in some other jam groups, and have been for several years. But this was the first time I played for an audience of any size. Incredibly enough, it was relaxing instead of stressful! I just love to play, and somehow it's even better when people are listening.
---
2 comments on "nursing home gig"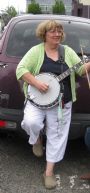 barbbanjo Says:
Wednesday, November 10, 2010 @8:39:19 PM
You guys did good! Tell the jam group to keep up the good work.

tgaryc Says:
Thursday, November 11, 2010 @10:30:20 AM
how was the Food? They alwas have food when I play at senior centers.
I always say I play for Old people and there parents
You must sign into your myHangout account before you can post comments.