Posted by pcfive on Saturday, November 6, 2010
The most important thing, I think, is to feel we are making progress. Not everyone is going to like what we play. And even if they do like it, they might not tell us. What people say is one of the ways I measure my progress, but it is not the only way. I try to play what sounds good to me, and that will not be what sounds good to everyone. So, to some extent, I have to trust my own judgment.
I get some nice compliments, because I practice a lot and people can tell I am making progress. But I can't expect to get compliments every time I play anything. If I did, I would constantly feel disappointed. If i were a great banjo player, maybe that would happen, but I am not. I am just someone who is learning.
So, my point is, I am happy as long as I make gradual progress. I try not to constantly wonder what everyone thinks. I try to play what sounds good to me, and hope that some others will like it.
I have to care what people think, without caring too much. I need to get someone else's perspective, because I can't be objective about my own playing. On the other hand, I can't let anyone discourage me.
Hard as it is to believe, not everyone loves the sound of bluegrass banjo!
We also have to not take it too seriously when someone says our playing is great. Maybe they're trying to make us feel good, or maybe they aren't critical enough.
So the moral is, try to keep a balanced perspective. We are so lucky to have found an instrument we love to play, and that SOME people love to hear.
---

kc8tby Says:
Saturday, November 6, 2010 @7:55:43 PM
Great thoughts!! Like yourself, I'm in the s-l-o-w process of just learning how to play. (LOL. if you call what I do. "playing"!)
You are so right when you say that "we are lucky to have found an instrument that we love to play..."
We are lucky indeed!
Best to you!


Paul R Says:
Saturday, November 6, 2010 @8:24:48 PM
Excellent comments. I've often been in situations (especially at mass) where people come up and say how much the music meant to them. This frequently happened when I felt that the music was awful. Eventually I realized that it did something for them and, even though I knew all the mistakes I'd made, their experience was truly meaningful.

Have you never listened to stuff that was technically masterful but did nothing for you emotionally?

"Playing" is indeed the word to use. As long as it's "playing", it's worthwhile.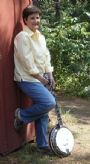 Banjosnob Says:
Wednesday, November 10, 2010 @4:45:44 AM
When I started this journey, people would say "why did you pick the Banjo". I stated that the sound is adicting and soothing to me. I have been at it for 5 years and the dogs have stopped howling when I play. When the fam. gets together, rarely do they say, "why don't you play something". I used to be a little ticked about it but understand now that everybody doesn't like the sound.
I just got a small digital recorder to listen to myself play so I can review what I am doing wrong and get it right.
I don't really care now what other people think. I am having fun playing this wonderful instrument and meeting a bunch of interesting and creative people.
You must sign into your myHangout account before you can post comments.