Posted by pcfive on Friday, September 17, 2010
I think I am getting better. I have been practicing 2 hours a day for a while now. Maybe for 3 months or more, don't remember. I don't know how I find that much time. And I play at 3 different jam sessions. I was at a jam session tonight and afterwards some people told me I keep getting better. I didn't screw anything up, and I played a couple of breaks in addition to my own solos. And I played FMB, pretty fast.
But the main thing is, it is so much fun to play. Even better if you don't screw up too much and people like your playing. I try not to worry too much what people think, but it is nice to get a compliment. But the fun of playing at a jam session can be just amazing. It can be challenging and stressful, but also amazingly fun.
Sometimes, especially at the beginning of the evening, I think Oh what am I doing here? I'm no good, this is so stressful, why am I torturing myself? But after a while I usually calm down and just appreciate the music.
And it's so much better that we can be part of creating the music, not just listening. Jamming is just a great idea!
---
4 comments on "Getting Better"

banjotef Says:
Saturday, September 18, 2010 @2:58:57 AM
That's great news! Keep going, it just gets better.

pcfive Says:
Saturday, September 18, 2010 @7:08:47 AM
Thanks banjotef. Actually, I have been jamming for 3 and a half years now, and playing for about 7 years. But I started practicing at least an hour every day less than 2 years ago, and the 2 hour practicing started less than 6 months ago.

Yes it does keep on getting better. I still have a ways to go before I can feel like a real banjo player. But getting there slowly but surely.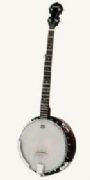 FisherPicker Says:
Sunday, September 19, 2010 @7:13:00 AM
I applaud your success and bravery, I think that the first time if I ever go to a jam session I'll bring my banjo, ...but I'll leave the strings at home! (I have never played with anyone else, not sure I could)

pcfive Says:
Sunday, September 19, 2010 @12:16:21 PM
FisherPicker,

I'm sure you can play with others, once you get used to it. When you're practicing alone you can try playing with recordings. If you can figure out the chords, at least some of the time, then you can play along. It is definitely worth starting to go to jam sessions, even if you don't always know the chords. When we don't know the chords, we just listen. Everyone does that. You don't have to be able to play any fancy breaks or improvisation.

Just be there and relax and get into the music. Play whatever you can, and don't stress. They won't force you to lead a song or play a solo.

I still get nervous sometimes if I'm leading a song I learned recently, or if there are a lot of people there. But I never get nervous while playing backup. It's just fun.

Just be in time and in tune, and if you aren't sure of the chord damp the strings. If you do all that, there is no chance you will cause any harm. And even if you do hit a wrong chord, it's ok because everyone does sometimes.

It's really more fun than you can imagine, so if there is an open jam near you, just go.
You must sign into your myHangout account before you can post comments.