Posted by nechville on Tuesday, September 7, 2010
This continuing update is partly in reverse chronological order, because I am telling the most recent developments of my European tour first. I write this entry from Gothenburg Sweden, staying with my dear friends Lars, Daniel and Gunnel Fick. My Scottish and Scandinavian experiences must be documented while they are fresh in my memory. I did a lot of advance planning for this trip, and I was fortunate to have many friends help me with transportation, and lodging. I originally contacted Edinburgh multi instrumentalist from Schooglenifty Band, Garry Finlayson to see if he would be able to meet for a Scottish jam. He ended up having a gig out of town, but as luck would have it, Iain Maclachan discovered I was going to be there through the Banjo Hangout, and he volunteered to host me AND set up a nice Jam and workshop in Edinburgh. I met some of the best Bluegrass players in town, and we had a great time- Iain himself was a joy to hang out with, We had a couple days to visit and jam. His book, Encyclopedia of Celtic Music for Banjo, is a perfect way to learn Scottish and Irish tunes in the most sensible way for 5 string players. His approach delivers the easiest way to faithfully get the melody of these tunes across. We spent hours going through every song in his book, what a fantastic guy and great player! We ended our session in a local pub, playing for free beer. The people working there wanted to close, so we got kicked out before we could finish our drinks. The next day was Friday and I flew to Torp airport in Norway, The discount airlines make you think it is close to a major town like Oslo, but actually it was 2 hours away- Anyway, my destination was Moss, a town on the other side of the fjord. I was picked up by Gunnar Stordahl From Stordahl Music in Moss. We took the ferry across to his town, and he got me a hotel right across from the store. Saturday morning I arrived at the store and there were several musicians already there to meet me 3 hours early. The best known player in Norway is probably Terje Kinn a super joyful player who cannot play without a broad smile on his face. We knew all the same tunes, and he could play anything, well. Terje along with Norway's own version of Jerry Douglas, Knut Hem both play with Norway´s biggest comedy-music star, Oestein Sunde, who himself is a Nechville Classic player. We were joined by a list of Who's Who in Norway Bluegrass music. A couple guys named Kai, and Kai Arne were from the best known Acoustic band in Norway. After my presentation on banjo set up, and the differences in design between Gibson and Nechville, We started to jam and the crowd of about 50 people seemed impressed. The Best part of the day was after the jam we continued to party and eat and play more with this exlusive group of warm, friendly and talented people. Gunnar and his lovely wife hosted a little smogasboard of Norwegian goodies, and we had a marvelous time. The man to thank for introducing my banjos to such influential people is Dag Ivar Casperson. He showed his Nechville Vintage around to just the right people, and opened the door to the very best exposure I could have gotten in that country. Kai, Kai, Dag Ivar and I continued the festivities at our hotel, were we took full advantage of our time to celebrate with music. Thanks to Dag Ivar for bringing me to the bus, and taking care of me during my short but sweet Norweigan visit. My days here in Gothenburg will be relatively calm and relaxing, since I have fewer prospects for sales currently in Sweden. But I look forward to my final week, capped with a visit to lovely Cornwall.
Tues Sept 7th- I am In Europe, and just spent the weekend with Lluis Gomez at Didmarton Bluegrass festival in UK where we gave away a Nechville Banjo in support of youth scholorships to Sore FIngers Teaching camp. I thought your readers might like to hear about a banjo makers life on the road. Here is a summary of my European adventures so far.
My daughter Leslie Schmitt and her new French family hosted me in the lovely village of Phalzweyer France. She picked me up in Frankfurt, and we returned to her Alsacian home greeted with great food and wine. Leslie and I became a traveling musical duo, first visiting our dealer Franz Elsener in Schaffhaussen, Switserland, and continued to the birthday party of Thierry Schoysman from Brussels, mando and banjo player in Sons of Navarone bluegrass band. (He makes great spaghetti) and I did some spikes on Theirry's banjo, installed the new neck onto Andre Simone's Meteor while indulging in fine Belgian beverages. Sunday we arrived at Jaap and Hilde Margary's house and had a marvelous time with them rehearsing and that night performing in a local pub. Leslie and I took one day to visit friends in Amsterdam and ended up getting separated for several hours, as I wandered off with some Israeli' kids thinking the restaurant had closed. I was eventually found playing and singing to a small group of late night youngsters on sidewalk outside my daughter's friends apartment. The next day - visit to Rienk Janssen in the north of Netherlands. We stayed at his daughter Liz and Martin's farmhouse after a nice small music jam and social at their house. The highlight was playing along with a woman singing some great Swahelee songs. The next day in Hamburg we met Veit Doehler, who I take my hat off to for not only being a great banjo player, but also a genuinely nice guy. Same can be said for his partner Andreas Benkhofer. Veit and Andreas are partners in the new banjo specialty instrument business called Banjoree, Their banjo camp event is scheduled for May 13-15 2011 in Hamburg Germany. They were excellent travel companions on our trip to Tonder Fest in Denmark, That weekend was filled with interesting experiences, as we displayed banjos, jammed and met lots of interesting people. I went through "hot" streaks on the banjo when I got truly warmed up to the point of fire at times. It is sort of interesting that after almost 40 years of playing, I'm starting to realize (after being told so several times) I have my "own style" on the banjo. I never really believed that, but I guess it's the way I contribute a lot of rhythm and backup with my 2 bare fingers. After long nights awake and busy days in Tonder, we drove all night Saturday to Frankfurt airport to pick up Leslie's friend. We crowned the big circle tour back at her home in Alsace with a nice long nap and awakened to an incredible Gourmet meal prepared in Leslie's kitchen. Joined by the rest of the family, Leslie and I did a small performance tthat night. The route to England from the Schmitt's took me to Rome where I sold a banjo to banjo Rock Star, Danilo Cartia then to Milano to get a cheap flight to The Midlands. I got tagged for extra baggage in Italy to england, but made to to the Oddhouse Country Inn for a great jam Wednesday with Musical buddy Guy Rogers and new Nechville Saturn owner, Joe McIlvenny, followed by a nice bed and breakfast.
Thursday through Sunday at Didmarton Festival was brilliant. I loved the fun and friendly spirit of the fans and players there. It is held on Kemble airfield grounds. There was an amazing air show overhead with planes doing divebombs right at the campsite from above, Jets, and spitfire airplanes demo'd their fancy manouvering and loops. There is a motorbiker bar with a giant fire pit where they burn wooden pallets all night with tons of jamming and monkey business. The bar closes when they run out of beer. I am becoming quite the new celebrity in UK, as I joke and jam around with everybody. I think I made a memorable impression, Lots of very nice people, great conversations and a few hot jams. Our GLOBAL Banjo Revolution showcase sunday morning with Me Lluis Gomez, Leon Hunt and Guy Rogers was very well attended, with a responsive audience. I also took part in the banjo players workshop that morning whereby Nechville banjos dominated the stage with 3 of the 4 professional players holding Nechvilles! I am writing only in the middle of my voyage from the house of Katherine Selby and Jer Boon in Bristol now, in their nice brick house. We just ate Cottage Pie, and I am listening to some tunes to learn for tomorrow night's jam. The upcoming itinerary will take me to Edinburgh, Oslo, Gothenburg, Glascow and Cornwall Bluegrass Fest, , Tom, Peace, Love, Cheers and Prosperity, Tom
---

Yellowhouseroad Says:
Tuesday, September 7, 2010 @7:17:14 AM
WOW Tom! Sounds like wild adventure! What kind of tunes are you learning in Europe? I trying to expand my genre list. Safe travels. God bless.

TopCat Says:
Tuesday, September 7, 2010 @8:13:33 AM
What an enjoyable newsy blog! Sounds like a great time across Europe. Looking forward to seeing you play at the Cornish Bluegrass Fest.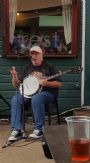 joemac Says:
Tuesday, September 7, 2010 @11:12:07 AM
It was truely great playing with you at Snarestone and trying your banjo's at Didmarton, your one of the best Tom.....Joe

wings Says:
Monday, September 13, 2010 @1:48:16 PM
Tom, we had such a great time. It was a blast playing music together.. Knut says hi, have a safe trip home, see you soon again I hope. The phantom is performing fantastic...thanks.
Terje
You must sign into your myHangout account before you can post comments.