Well, we're all off to the Whitby Folk Festival this Sat for the week.
We'll be playing on the fringe of the fest in a few pubs over during the week so come and say 'howdy' if you're in the area.
We get a few banjo, fiddle and mandolin players come and join our sing around, doing a bit of bluegrass or old time.
It can be quite difficult (from exprience) in our genre of music to be accepted in the folk sing arounds, so we've, by accident, have created our own thing at folk festival.
From that last statment, I'm not trying to be controversial or start an heated debate, because folk music is where I came from and is probably where I end up if this bluegrass experience comes to an end.
---
3 comments on "Whitby Folk Festival"

TopCat Says:
Thursday, August 19, 2010 @3:22:38 AM
Hey John, I am going to be stewarding at WFF this year. Any idea what pubs you tend to frequent for BG/OT sessions, I would definitely try to come along if I can find you amongst all the folkies. Cheers, Maria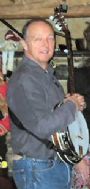 john leary Says:
Thursday, August 19, 2010 @2:13:32 PM
Weather permitting, we'll probably be playing outside the Middle Earth Sat afternoon, and then The Bottom House Sat night. Look forward to meeting a fellow B/g picker.

TopCat Says:
Thursday, August 19, 2010 @2:48:06 PM
Cheers John, hope to catch up with you in Whitby!
You must sign into your myHangout account before you can post comments.