Posted by schlange on Monday, July 26, 2010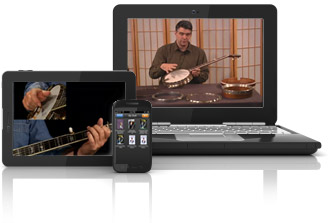 We just took our new banjo lessons catalog live--view it here.
This new catalog is a big step up from our previous way of doing things. It has a LOT more lesson content already available (50+ full lesson DVDs by 25+ instructors) with more coming down the pipe. The lessons come from the likes of Acutab, Homespun, and Mel Bay, and are delivered over your high-speed Internet connection straight to your computer.
Unlike our old lessons setup, you don't have to be online to watch your lessons--once you've downloaded them, you've got 'em!
We're still adding in the titles from Mel Bay, and hopefully we'll be adding titles from others soon as well. My goal is get a very large library of quality lessons available for sale.
FYI: lessons purchased on the old system are still available to those who have purchased them. I'm working on getting them moved over to the new system.
---
9 comments on "Check out the new Banjo Hangout Lesson Videos catalog! Purchase and download banjo DVDs online!"

Clive Halls Says:
Tuesday, July 27, 2010 @1:07:15 PM
Should be a great success. It's simple to download and install. I've looked at some of the sample videos and they play perfectly. Now the problem is which to buy first, the list is comprehensive.
Great stuff Eric. Good luck.






schlange Says:
Tuesday, July 27, 2010 @1:22:45 PM
Thanks, CG.

I'll be adding lessons from Ross Nickerson and others soon as well, so the list will grow! Mel Bay's lessons actually aren't even showing up quite yet (it's a long story why) but should be within a few days.

kleblanc Says:
Tuesday, July 27, 2010 @3:20:28 PM
Oh you guys are gonna so get it from my wife!! Wait 'til she finds out I downloaded this. I cannot be held responsible for what happens...

Thanks!! ;)

schlange Says:
Tuesday, July 27, 2010 @4:05:05 PM
If you're able to diffuse her let me know--perhaps I can use the same strategy on MY wife! :-)

Medwin Bew Says:
Monday, August 9, 2010 @7:45:03 AM
Excellent move, Eric. My hearty thanks. My tactic with the domestic manager was to wait til she got home from town and guiltily showed me some clothes shopping. Then I was straight onto the catalogue to use the brownie points I had in hand. Result! Domestic balace restored. Hah! Oh and if you can get some more intermediate clawhammer stuff on the catalogue that would be brilliant. Maybe something like Bob Carlin's Carolina clawhammer DVDs?

pickercymru Says:
Monday, August 9, 2010 @3:26:19 PM
There is no information on what to do if your download fails - as mine did - how do you get your money back?

schlange Says:
Monday, August 9, 2010 @4:56:21 PM
Hi pickercymru--see the support link here: http://www.banjohangout.org/lessons/catalog/installation.asp

pickercymru Says:
Tuesday, August 10, 2010 @2:17:35 PM
Thanks Eric - I persevered and after 10 hours finally got the lesson downloaded. The people at the site were very good with their responses. The quality of the video is superb. I dont suppose anyone can do much about the slow download thats down to the UK provider - must get a better one eh!
many thanks
r

schlange Says:
Tuesday, August 10, 2010 @2:45:38 PM
Glad it worked out for ya!
You must sign into your myHangout account before you can post comments.