Posted by phill on Wednesday, June 30, 2010
Well what a weekend of fine weather, pickers, support, workshops, jamming etc etc. Everyone is saying best ever so far, well thanks as we put a lot of hard work into it. I thought I was gonna be out of it because the week before I was flat out with a gastric bug that left me feeling poorley (hence my name Feel Poorley). Even up to the Friday I was still not well but the show had to go on.
And it did, and where did all these people come from, I know I plugged it everyday for 2 weeks on Facebook and people said they had read about there, so that works!! Yeh we couldn't ask for better weather, and the bands Sat nite were fantastic from start to finish.
It was great meeting up with Dennis Schut and family from Holland now living in France. I haven't seen Dennis for years. There were other new faces but ones I knew, my partner in crime when I first got into bluegrass music in 1968/69 Alan Ewing turned up on the Saturday. He wants to get back into bluegrass guitar. A pupil of mine Mark Williams turned up for a while that was good to see him. Sorry to Mick Lee for missing Dave Bresen of Frets on the Sunday but he had to travel a long way back.
Hey I would like to thank you all for turning and supporting us, a huge thanks to Richard Butchca (without him this would not be possible), he is a diamond and his daughter Jenny, Chris Hockley and his crew from Ipswich, they are mustard excuse the punn Chris runs the Bar-B-Q. Dave Bresen for sound and keeping me in tow (he's everyone's Auntie Wainwright), Joe Bampton and crew for the teas, coffees and cakes (I couldn't eat). Pat and Richard Eyres and many more I may have missed out!! Oh most important thanks to THE DUDE COOPERS, BLUEGRASS REVUE and HOME TERRIOTY you were all top notch!!
The whole weekend finished down at the church for a gospel service with various musicians, it was decided we did the gospel in memory of David Hymers (Hippy Joe's dad) who sadley died last year soon after last years festival. Dave was a great supporter of the music and you would always find him somewhere where there was bluegrass! What a nice way to round up a fantastic weekend, just like one big happy family, I hope it will continue to grow with more children and grandchildren!!
I will be putting some photos up so come back and check them out. For next year we are looking for volunteers to help out just to do a few hours on a Fri - Sat - Sun so we can at least have a break in return you will get a free weekend ticket or if you can only do one day that ticket. We need about 10 people we have about 6 but we will be taking in reserves because if someone can't do it at the last moment we need to fill that place. If you would like to put your name forward please contact me by email only!
Thanks again
Phill :)
---
2 comments on "EAST ANGLIAN BLUEGRASS FESTIVAL JUNE 2010"
johnybanjoll Says:
Wednesday, June 30, 2010 @12:44:45 PM
hi phil poorly just to let you know what a great weekend you boys put together it was my first time at steeple morden it certainly wont be the last hopefuly lovely weather good friends great music thanks again john banjoll //joe macks mate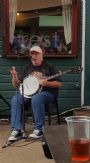 joemac Says:
Thursday, July 1, 2010 @1:44:09 AM
brilliant Phil from start to finish, thank you and your guys for a top notch weekend.
You must sign into your myHangout account before you can post comments.