One on my mom's co-workers gave me this banjo. It had been sitting in an attic for 25 years, untouched. So.. It is at least 25 years old!
It is a five-string Harmony. The headstock is slightly curving, but not sharp like a fiddle-shaped headstock, it is just skinnier in the middle. The tuners are geared, there are two tuners attached to the one plate on each side. It has sixteen brackets and little holes that look like they could almost be bracket holes in between each one. It is a twenty-two fretted instrument with a solid rosewood neck. The resonator is attached with a screw in the center of the back to the wooden coordinator rod inside. The inside of the resonator and pot appears to be of.. plexiglass? Not really sure. The pot has a crossing pattern on the inside for reinforcement, I guess.
The banjo's neck is painted brown, the resonator and outside pot is seemingly stained a dark brownish mahogany color. It has small mother-of pearl fret markers.
So, does anyone know about it? How old it is, where it was made, quality, etc?
---
7 comments on "Anybody know anything about this banjo someone gave me?"

carol behrens Says:
Tuesday, June 8, 2010 @5:46:07 PM
Harmony was a low end brand but that doesn't mean it doesn't sound good. They made a lot of banjos in the 1960s to keep up with the folk revival. Do you like how it sounds?

thecowpokepicker Says:
Tuesday, June 8, 2010 @7:31:43 PM
I can't say.. It doesn't have strings now because I clipped them off. The person who tried to string it up put guitar strings on it.

carol behrens Says:
Tuesday, June 8, 2010 @10:13:03 PM
Maybe you know somebody who knows how to tighten the head and put the bridge in the right place after you re-string it. The head may be loose OR too tight. It's not all that hard, in fact you can find directions to set up a banjo on line. You might have a fun instrument to learn stuff on. It's probably got some age on it which is a good thing for the sound in most cases. You look pretty cool playing it like you've been playing it for a long time. Great Picture.

thecowpokepicker Says:
Tuesday, June 8, 2010 @10:56:05 PM
I already know how to replace the head and set the bridge, I've done it a few other times before. You know I am an apprentice luthier?

carol behrens Says:
Tuesday, June 8, 2010 @11:03:26 PM
You know what to do then.

Ks_5-picker Says:
Wednesday, June 9, 2010 @9:55:55 PM
The Harmonys often used only half of the available holes for the hooks. It's plenty enough. I've fixed up a few of these,and they can sound and play fine.The necks are narrow,but should fit your feminine hands just fine.
I doubt that the neck is rosewood,the fingerboard might be
The body and resonator are called Bakelite,a kind of early plastic I think.
Probably 60s or early 70s.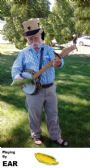 mike gregory Says:
Thursday, June 10, 2010 @5:35:13 AM
Ks5-picker is right, about Harmony only using half the holes.
On the low-end banjos, they saved some money by using half as many hooks as the higher-priced models. There was (possibly still is) a misperception that more hooks = better banjo sound. But, six hooks can and will do a decent job.
Congratulations on becoming an apprentice luthier. It's a fun job, but somebody's got to do it.
Just don't plan on getting very rich very soon.
You must sign into your myHangout account before you can post comments.