Posted by jimh269b on Saturday, May 22, 2010
you know i will be 60 this june the 5th,i have noticed that now my fingers dont really work like they use to,because i still work on mining equipment,like all this week trying to start a new mines,with a older miner with electrical panels that was chared with carbon that they are no colors or numbers on the control leads,with lots of problems in it,but today i got it all lined out,but those small tie wires ties will cut your fingers and they will get so sore,so that makes a real difference in your picking.but i still love and always will,the banjo i mean and i guess electrical work to
---
5 comments on "these old hands"

stringbeaner Says:
Saturday, May 22, 2010 @5:10:31 PM
Yep. Your hands can really take a likkin' and keep on pickin. I once (a long time ago) tried to split my left hand first finger with a table saw but the dang thing still works. Friend of mine (tmodel) plumb whacked a finger off but the docs stuck it back on and it still works. You don't realize how great hands are until one of them gets bunged up. Keep on pickin', Jim you are one of my favorite players.

sharakeet Says:
Saturday, May 22, 2010 @8:25:33 PM
Cool, Jim. Soak em in a heavy epsom salt solution with extremely hot water every day for fifteen minutes before you pick?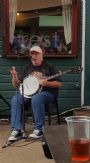 joemac Says:
Saturday, May 22, 2010 @11:23:33 PM
Hey Jim, look after those hand buddy, they are important to us all on hangout. What you need is a young apprentice to tie all those cable ties and meter out all those wires for ya!!!!!

Oalbrets Says:
Sunday, May 23, 2010 @2:25:39 PM
There is a song that Jhonny Cash does. I think it is called, These hands are the hands of a gentleman. This song reminds me of you Jim. Look it up on youtube if you aint heard it yet.

dgill Says:
Sunday, May 23, 2010 @3:43:48 PM
Take care of those hands Jim. Even as you decribe them they create some of the best songs on this site. One of the greats indeed.
You must sign into your myHangout account before you can post comments.