Posted by frianm on Friday, May 7, 2010
I am back in Peru for the month of May. This time my wife is not with me as her mother has had a series of mini strokes and is in a nursing home. Polly has returned home to Ohio to take care of here and to arrange things. Anyone looking for a nice, modest waterfront home outside Cleveland Ohio?
After even just three weeks in Vermont I was in culture shock being back amidst the noise, hustle and bustle of a giant city. I find that the language is easier and easier and yet frustrating as I hunt for words that I think I should know. I am now looking at a new set of tasks here as I am working on setting up a 501c3 for the ministry here - this is a busy retirement! I would not have it any other way.
Meanwhile - Banjos - I was able to build successfully a banj as a starter for a colleague here who was interested and asked. It was a simple build using a Mark Hickler rim and attaching a modern Washburn neck. Thanks for the donated tp and for being able to purchase various modest parts my friend Misael now has a banjo to learn on. I played it at our clergy worship gathering and it found favor with folk. I know my style is a tad eccentric but I am well pleased.
Meanwhile I seem to be amassing projects for when I return to VT on May 25. I have finally worked out that this banjo assembly past time is a kind of therapy, that when coupled with being able to play what you have put together gives a real sense of fulfilment. On the other hand sharing music and in music is part of the very fabric of life - a deep kind of sharing that brings joy to the soul.
Blessings to all - especially who share in this endeavor, it is spiritual!
Ian - Lima May 7, 2010
---
2 comments on "Back in Peru - briefly"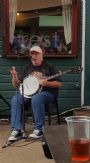 joemac Says:
Friday, May 7, 2010 @11:21:21 AM
A Deep sharing indeed Ian, something i also like to do. Good luck with it all......Joe

frianm Says:
Friday, May 7, 2010 @12:39:04 PM
Thanks Joe
You must sign into your myHangout account before you can post comments.