Well I have to admit 'It's getting better all the time'. Did the Beatles sing that line? Yea I think they did.
Well our band don't play Beatles songs, we play bluegrass, and after recently, not playing too good for various reasons, I now believe we're playing some of the best music ever.
Only over the last 5-6 weeks we've all begun to gel, or as some would say we're playing in the zone.
We've done a couple of formal gigs i,e , standing in front of an attentative audience, and a few informal, where we've sat down in a empty pub and played and people have joined us and really appreciated our music.
It could well be, that the informal outings are giving us the confidence we need for us to realise the music we've been practicing so hard to get right, is worth listenig to.
I hope you don't think this blog is a boast? I just wanted to share my enthusiasm with someone!
---
6 comments on "Getting better all the time!"

banjotef Says:
Wednesday, May 5, 2010 @5:12:07 AM
That's great! Keep it going!

sharakeet Says:
Wednesday, May 5, 2010 @6:30:44 AM
Believe this, John...None of us here would dare take that as a boast, and all are truly happy for you! That is a GREAT feeling, ain't it?

peghead59 Says:
Thursday, May 6, 2010 @9:57:55 AM
Once that enthusiasm bites, you just want to share it with everyone. Well done.

Grumps Says:
Friday, May 21, 2010 @2:41:14 PM
As Myself & Joanie along with our own 'Rent-a-Crowd' are some of your keenest fans, we wish you all the best & agree you're getting better each time we turn up. Keep pickin' mate & giving me lots of encouragement with my simple efforts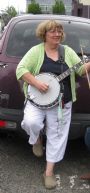 barbbanjo Says:
Monday, May 31, 2010 @9:07:51 PM
You're doing great, John! I know how sometimes you've just got to share what is going on in your banjo world and we all understand that it isn't boasting! It sounds like you're having fun. My husband, Ken and I figure out that until they pay us NOT to play we must be doing something right! Keep on pickn'.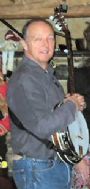 john leary Says:
Tuesday, June 1, 2010 @7:20:21 AM
Yes you're right barbbanjo. Getting paid for not playing.
In fact we're beginning to get little bits of payment.
Sometimes it's free beer and sometimes its' a bit of money. Divided between five of us ain't going to pay the rent.
But we never set out to make money in the first place.
We just set out to play this wonderful music the best we could. So any payment, no matter what, is a great incentive.
You must sign into your myHangout account before you can post comments.