Posted by ZEPP on Wednesday, March 28, 2007
At least the doctor who administered the 13-week ultrasound said he was 98% sure that our newest is to be a girl. Owing to my wife's "advanced" age (35), we're doing early tests for birth defect detection (I'm happy to say
everything
is normal so far), and several levels of ultrasound have been done thus far. Sort of amazing--when my first child was born, there was no way to tell the sex other than to wait. When my second was born, ultrasound was available, but pretty crude and not too informative. Now, here we are at 13 weeks, and we can look at fingers and toes and legs and nose. Absolutely amazing.
But all goes well, and I grow exciteder by the day!
---
7 comments on "It's 98% female!"

Alan Butterfield Says:
Wednesday, March 28, 2007 @4:22:06 PM
Congratulations, Zepp!
There's nothing like a baby girl! Not even an electric or tubaphone...
Regards,
Alan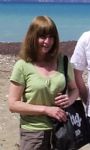 u k sandra Says:
Wednesday, March 28, 2007 @5:29:32 PM
Advanced age at 35?. Now I feel really old. Have you thought of a name yet. How about Sally Ann, Liza Jane, Polly or Angeline. I`ll vote for Angeline. Hope everything goes well. Make sure you get plenty of sleep while you can.

Unplugged Says:
Wednesday, March 28, 2007 @5:51:23 PM
How cool is this, eh, Zepp? Enjoy every minute that you can. What an amazing experience. May all continue to go well with you and yours.

Stev187 Says:
Wednesday, March 28, 2007 @9:55:06 PM
Awesome, Zepp. Remember, the 2% is a real possibility. She could be a baby boy "hiding his candy" (this will make sense if you've read The Garden of Good and Evil).
We'll need ultrasound until some enterprizing doctor invents the pregnancy equivalent of ClearHead (TM) videos.
;-)

Yopparai Says:
Thursday, March 29, 2007 @11:01:23 AM
Congratulations, Zepp! I almost named mine "Abiell" till the wife discovered that the name means "My father is god."

waync Says:
Saturday, April 14, 2007 @8:00:58 AM
lol yopp. very cool zepp. so your wife is half your age... dooog! have fun, wm

Hillbilly Says:
Monday, April 30, 2007 @1:54:31 PM
Congratulations Zepp!
My wife is 41 and gave birth to another little girl 4 weeks ago named "Asita". I've experimentally put a few photos on the BH.
I hope all goes well buddy.
You must sign into your myHangout account before you can post comments.